Matt Rife is a comedian and actor who has been making waves on TikTok with his viral content and remarkable engagement. He has over 5 million followers and more than 260 million views globally. He is also known for his self-produced comedy special Only Fans (2021), and his appearance on Bring the Funny in 2019.
Matt Rife's Jokes Led to a Cheating Scandal Involving a Side Chick Being Discovered During his Comedy Show
Recently, he made headlines for a different reason. A video clip from one of his comedy shows surfaced online, showing a hilarious and awkward situation involving a man who got caught with his side chick at Matt Rife's comedy show. The video clip shows Matt Rife doing a sketch with jokes about how the black people he has met answer questions without actually saying anything.
To make his point, he singled out a black guy in the crowd, and asked "who are you here with". The man answered with a nervous laugh, which led Matt Rife to strongly believe that the woman beside him was a side chick.
The man eventually claimed that she was his only woman, but things went left quick. Another woman recognized the man, and confirmed that he did indeed have a side chick. To prove her point she shouted from across the room "I know Brittney" adding an unexpected plot twist to the situation. Apparently that was either the name of his wife, or the name of the side chick. The crowd erupted in laughter and disbelief, while Matt Rife was stunned by the turn of events.
Social Media Reactions Lead to People Discovering Matt Rife's Tour is Completely Sold Out
The video clip quickly went viral on social media platforms like TikTok, Instagram, Twitter and YouTube. Many people found it hilarious and entertaining, while others felt sorry for the man who got exposed or questioned if it was all staged.
The video also sparked curiosity among people who had never heard of Matt Rife before. Many of them wanted to see more of his comedy shows or check out his tour dates. However, they were disappointed to find out that his tour was completely sold out . His upcoming events in Pennsylvania, North Carolina, Texas, California, Ohio, Florida, and Arizona were all sold out within minutes after going on sale according to some reports.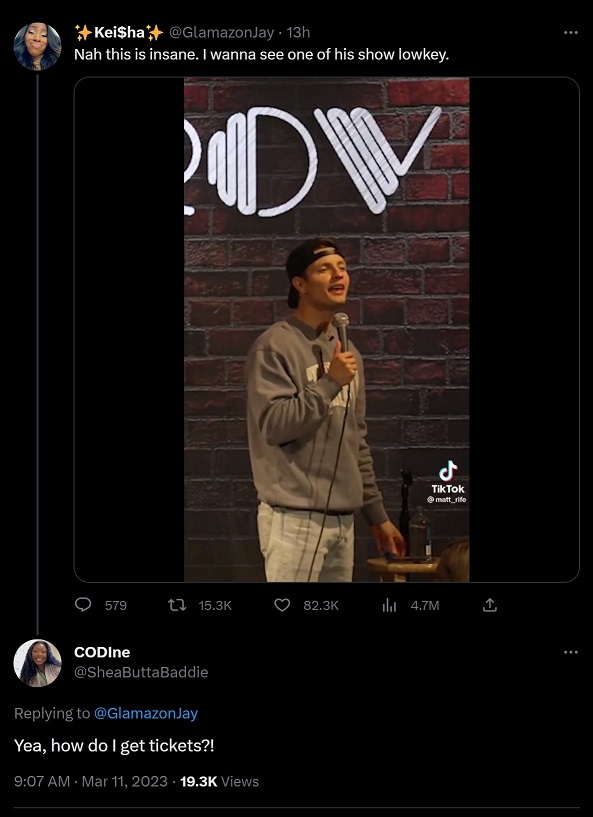 It seems like getting a Matt Rife ticket is just as tough as trying to find PS5 in stock.