Zion Williamson's lackluster play continued Thursday afternoon at the Orlando Bubble. In 21 minutes of action Zion Williamson got 2 rebounds for the entire game. Yes you heard that correctly, the freak athlete who can jump higher than any man, Zion Williamson only grabbed 2 rebounds the entire game.
Naturally social media started to go in on him for hindering the Pelican's playoffs chances once again. Take a look at the reactions to Zion Williamson's 2 rebound stat line.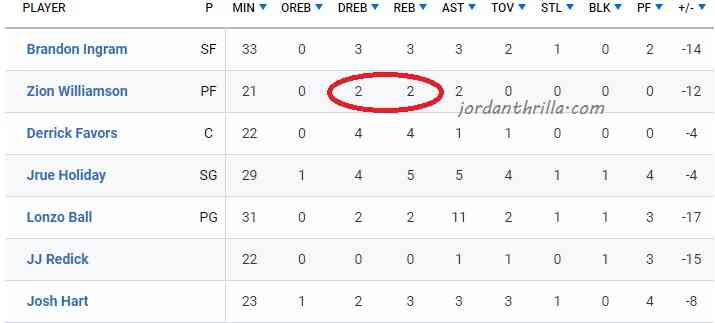 Zion not even trying to get rebounds right now lol

— Nick Pepper (@nickpepper22) August 6, 2020

It got so bad for Zion Williamson that some people thought he gave up during the game. The truth is he has been a bad rebounder and defender all season that hasn't improved at all.
It will be very tough for the Pelicans to make the playoffs with the major flaws Zion Williamson has in his game. His leaping ability and the wide open dunks seem to jade people's view of him on the basketball court. He has a lot to improve or he will continue to be a liability on the court in the technical sense.
Author: JordanThrilla