Skinny Nikola Jokic throwing dimes to skinny Bol Bol at Orlando Bubble is going viral. The two have been teammates all season, but fans have never seen Skinny Nikola and Bol Bol on the same court together. Skinny Nikola Jokic only appeared a few weeks ago.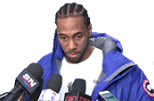 Most people have Lakers or OKC Thunder winning the West, but Denver can be a formidable foe with Skinny Nikola Jokic and Bol Bol playing at their highest level. Bol Bol has spent some time in the G League to develop his injury prone frame, and it looks like the process is complete. At the same time Nikola Jokic finally lost all his baby weight.
Skinny Nikola Jokic throwing dimes to Bol Bol definitely is something out a basketball nightmare for an opposing coach.
Author: JordanThrilla