The NBA Summer League is a great opportunity for young players to showcase their skills and potential. One of the most intriguing prospects in this year's edition is Victor Wembanyama, a 7-foot-5 center from France who was drafted by the San Antonio Spurs with the first overall pick.
Wembanyama has been drawing attention for his incredible height, wingspan, and mobility. He can block shots, shoot threes, and run the floor like few players his size can. He also had a unique way of warming up before his Summer League debut: doing pull-ups on the arena tunnel ceiling.
That's right, Wembanyama is so tall that his head touches the ceiling of the tunnel that leads to the court. This was captured on camera before his first Summer League game against the Charlotte Hornets on Friday night. As the Portland Trail Blazers vs Houston Rockets game was ending, the Spurs players were standing in the tunnel waiting to get out on the court.
Wembanyama was standing near the front of the line, and he literally had his hands on a part of the tunnel attached to the ceiling. At one point, he started doing pull-ups while hanging from the tunnel ceiling, much to the amusement and awe of spectators.
The videos and pictures of Wembanyama's ceiling reverse grip pull-ups, and perspective of height in the tunnel quickly went viral on social media, with many people commenting on how tall he really is. Some even joked that he should be careful not to hit his head on the scoreboard or the rafters during the game.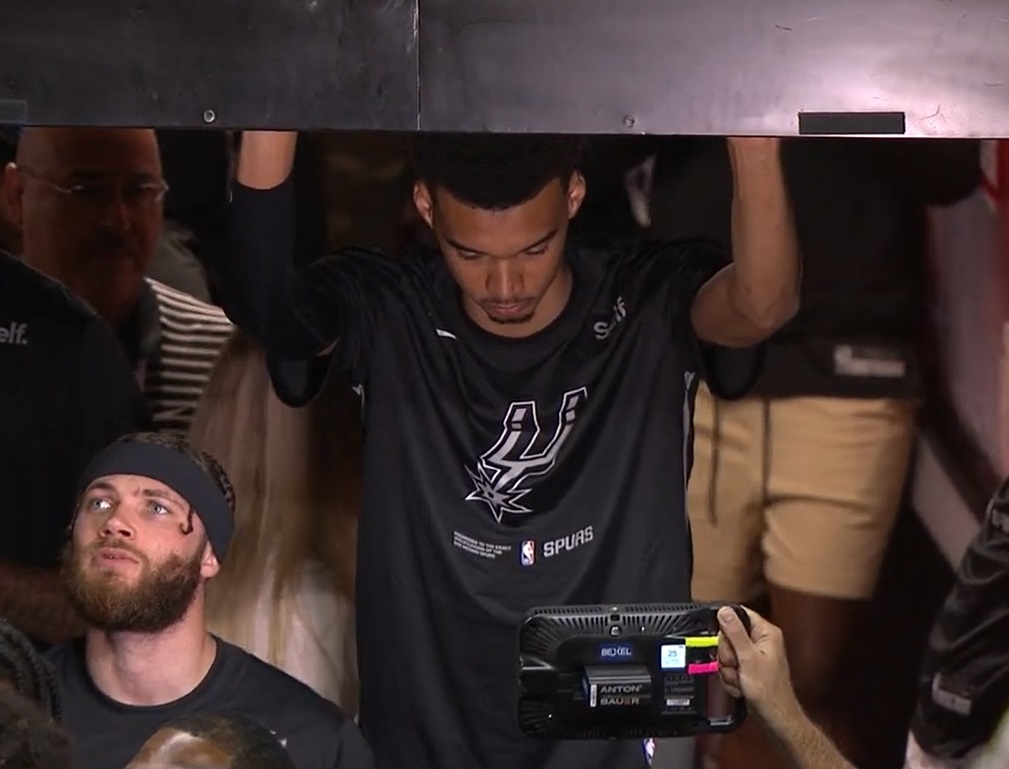 Wembanyama is one of the most exciting prospects in the NBA right now, and he has a bright future ahead of him. He also has a unique way of preparing for games that no one else can replicate. He is literally head and shoulders above everyone else.
However, historically players of his height haven't fared well against the strength and force of the NBA game. Will he be the one that changes that trend?