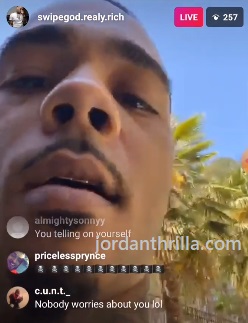 SwipeGod put a $100K Hit on the person who killed "CEO Bezzal". During an Instagram Live session SwipeGod said $100K on the head of the person who shot CEO Bezzal dead. He warned the shooter that he would be found. SwipeGod added that anyone who identifies CEO Bezzal's murderer would get $100K in cash.
Check out the some screenshots of the comments from IG Live.

Based on his track record when SwipeGod tells you he put a $100K hit on person who killed CEO Bezzal, you know he really means. He has stated many times he isn't afraid of the law, which explains why he comfortable making comments like this on social media.
SwipeGod wants street justice for CEO Bezzal's death, and he wants to be the person that serves the justice.
RIP CEO Bezzal.
Author: JordanThrilla