Blueface has entered the restaurant world, and he's capitalizing on a nonexistent market in the area where he lives. Blueface opened a soul food restaurant in Santa Clarita Valley called "Blue Fish and Soul". This is truly a family affair, because his mom is the chef. His new business move hasn't come without controversy as people on social media are accusing Blueface of promoting unhealthy eating.
Blueface claims his soul food restaurant is the only place in Santa Clarita Valley where you can get that type of food. In a viral video he gave a walkthrough of his food venue, which showed it has that classic mom and pop diner feel. Some of the workers gave him a plate of food, which included macaroni, fried shrimp, fried fish, fried hush puppies, and Blueface lemonade. It definitely looked like a high fat, high cholesterol, and high sugar content meal.
Here is a photo of the "Blueface Platter" that had social media worried about the health ramifications of eating the tasty looking soul food.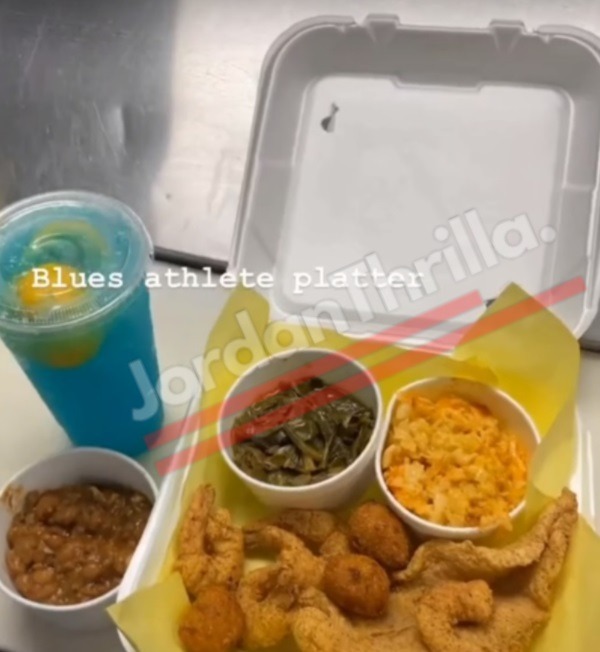 Cardiovascular disease has ravaged the black community throughout history, and some doctors think soul food plays a huge part in the people who are affected. According to NCBI black people are 30% more likely to die from heart disease in comparison to other races. According to CDC the most common causes that lead to heart disease in black people are high cholesterol, diabetes, and high blood pressure. Overall 24% of deaths in the black community are attributed to heart disease.
Does Blueface opening a soul fool food restaurant in Santa Clarita Valley promote an unhealthy diet known to be deadly long term? From a science stand point it's hard to say he isn't, but eating soul food every once in awhile can't be that harmful right? Moderation is the key.
Author: JordanThrilla Staff