The Donald Trump vs Twitter Beef continued in a hilarious way, when they brought out the infamous flag. Twitter flagged Donald Trump's tweet saying "We are up BIG, but they are trying steal the election" as false information. They add a disclaimer saying "some or all of the content shared in this Tweet is disputed and might be misleading". A nice way of Twitter deciding what you posted is "fake news".
Donald Trump's stealing election accusation centers around his claim that voters are being allowed to cast votes after polls are closed, which he insinuates is illegal.
Donald Trump's claim that he is up "big" on Joe Biden came after he was projected to win Florida, which was considered a swing state.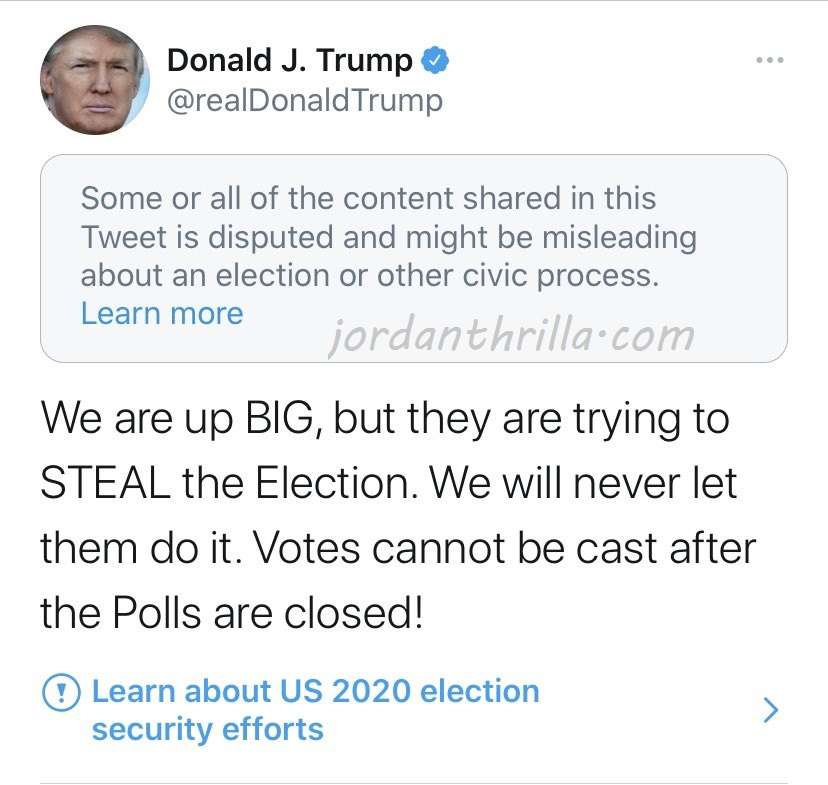 According to twitter Donald Trump isn't up big, and nobody is stealing the election in the manner Trump described. However, whether or not Trump is up "Big" would be based on how each person classifies "big". In reference to the accusation of the election being stolen, Donald Trump hasn't shown any proof of that being true.
What would be very funny is if Trump makes another post with some "alleged" proof of the election being stolen, then Twitter flags it as false information again.
This has been one of the most entertaining election nights of all time, so hopefully the antics like this continue. Whether or not you like Trump you have to be getting a good laugh from incidents like this.
The Twitter vs Donald Trump beef is a classic one in political history. Unintentional Political Comedy at it's finest.
Author: JordanThrilla