With Goran Dragic and Bam Adebayo out with injury, Tyler Herro was set to make history in Game 2 of 2020 NBA finals with Katya Elise Henry watching. Tyler Herro is the first rookie ever to start in the NBA Finals. Tyler Herro is also the youngest player to start in the NBA Finals at only 20 years old.
Take a look at Miami Heat's starting 5.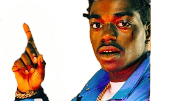 The starting lineup for Game 2 of the 2020 NBA Finals was Tyler Herro, Duncan Robinson, Jimmy Butler, Jae Crowder, and Meyers Leonard. A very different starting lineup that what Heat fans are used to seeing. For Meyers Leonard this would be his first time getting minutes in the playoffs.
Tyler Herro scored 14 points in game 1, but struggled most of the game especially on the defensive. Being inserted into the starting lineup could give him the edge he needs to dominate like he did against the Celtics.
Author: JordanThrilla