How far would you go to diss a celebrity you don't like for being short? For one person it went as far as paying a Sky-writing plane pilot to accomplish the task. A viral video shows the aftermath of a random person spending thousands to sky-write Joe Rogan's real height in the Los Angeles sky, or so they claimed.
The sky-written message which could be seen from any part of LA said, "Joe Rogan is literally 5 Foot 3". This has raised the question how tall is Joe Rogan really? Most sources say he's 5'7″, but we all know celebrities can lie about their height. For example some people think Bow Wow has been lying about his height during his career.
Did the person who paid to skywrite Joe Rogan's height reveal the real truth? Take a look.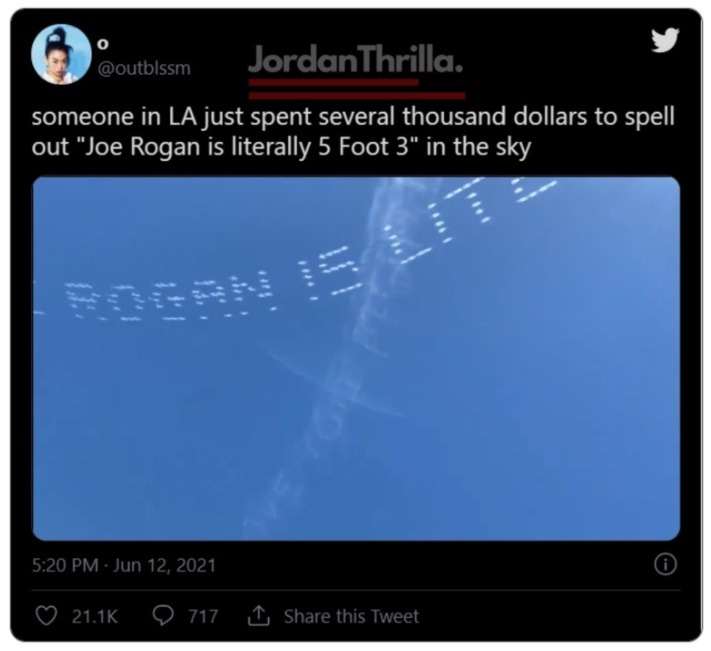 The truth is there may be proof that Joe Rogan is not 5 Foot 3. In the picture above you see Joe Rogan towering over the 5'4″ Henry Cejudo, granted he is wearing shoes and the fighter is barefoot. Joe Rogan looks to be 5 foot 7 inches in that photo.
Nevertheless, the person who Sky-write trolled Joe Rogan is an internet legend now.
Author: JordanThrilla Staff