Game 2 of the classic 2022 NBA Finals series of Warriors vs Celtics was an unexpected blowout that was the complete opposite of Game 1, but also alike in some ways. In the third quarter Warriors found themselves with a double digit lead again, but this time they were able to keep their foot on the gas securing a dominant win. For the most part Celtics beat themselves with a ridiculous amount of unforced turnovers, but it was also the tone Draymond Green set from the opening buzzer. His antics caught the attention of Al Horford's sister Anna Horford who had a lot to say about Draymond Green on Twitter after seeing her brother lose.
Details About Why Al Horford's Sister Anna Horford Dissed Draymond Green After Warriors Win Game 2 of NBA Finals
Draymond Green scored 9 points and took 9 less shots than he did in Game 1, but it was on the defensive end where he shined. Many of his defensive plays that stood out most seemed to be dirty, at least according to Al Horford's sister. For example there was play where he pushed Jaylen Brown's leg while he was on the ground, the play where he grabbed Marcus Smart's arm as they were battling for position during a rebound opportunity, the persistent altercations with Grant Williams, and lastly there was all obvious fouls on Al Horford that weren't called.
In response to what she witnessed during Celtics' loss to Warriors in Game 2, Anna Horford called Draymond Green a dirty player. She claims that when he knows he can't beat an opponent he resorts to playing dirty. She called out Jordan Poole for following his lead in terms of the alleged dirty antics.
Jaylen Brown's Reaction Draymond Green Altercation Matches Anna Horford's Sentiment
During his postgame interview the reporters asked Jaylen Brown about his altercation with Draymond Green. The incident happened after Green fouled Brown on a three point attempt. His response to the question included a claim that Draymond Green tried to pull down Jaylen Brown's shorts after putting his feet on his head. His description of what Draymond Green does on the court seems to coincide with Anna Horford's assessment of what happened throughout the game.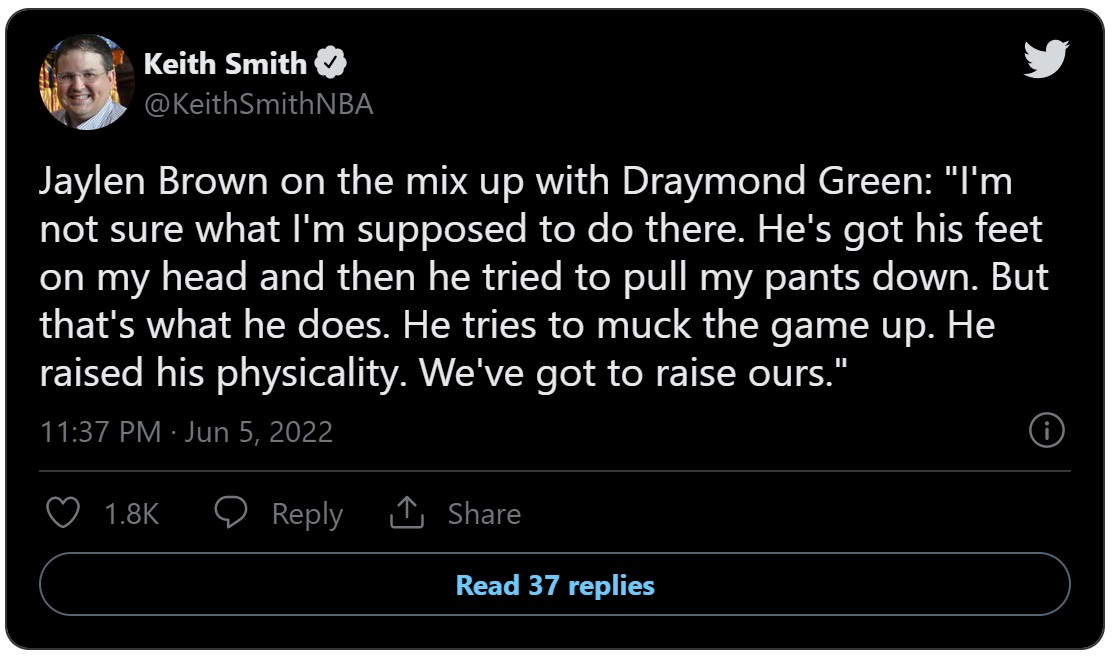 Anna Horford dissing Draymond Green for being a dirty player will only motivate her brother Al Horford to play better in Game 3. After scoring 26 points in Game 1 he only scored 2 points on 1-4 shooting in Game 2.
Throughout the playoffs Celtics have always bounced back strong after blowout losses. They did so in the Bucks series, and were able to do so against Miami as well. The main thing Celtics need to focus on is limiting their turnovers. It's tough to win when you turn the ball over 18 times.