Tacko Fall is no longer in the NBA, but he's making a name for himself in China similar to how Stephon Marbury did all those years ago. Despite his massive height and length, in the NBA he was too slow to be a viable player, and barely got any minutes. However, in China he's looking like a superstar.
Tacko Fall is now a member of the Xinjian Flying Tigers. On the season he's averaging 15 points and 8 rebounds per game. The Tigers starting 5 includes a fellow USA player in Pierre Jackson along with Dehao Yu, Aizimaiti Tuxun, and Xuhang Zhu. Footage shows Tacko Fall doing everything from scoring, bringing the ball up the court, and blocking shots. He's still just as slow as ever in terms of his speed, but over there he doesn't need to quickness to make an impact.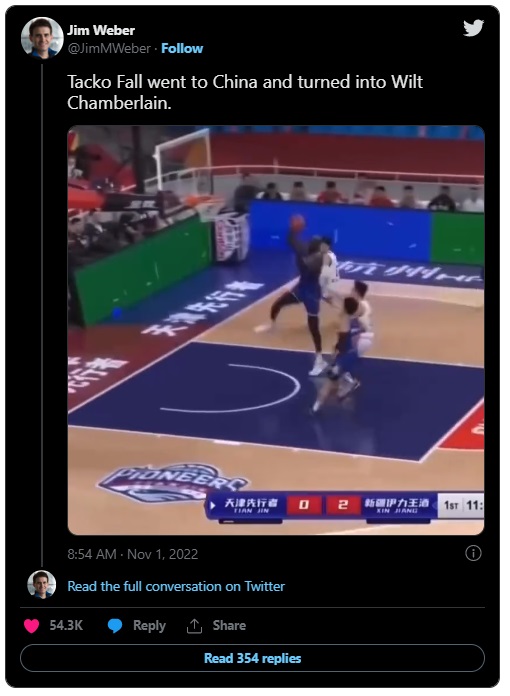 The increased role he has in the China basketball league could bode well to helping Tacko Fall improve his game enough to return to the NBA some day. Until then who knows maybe he will have a statue built for him somewhere in China like Stephon Marbury.
It would have been cool to see what kind of numbers he could have put in the NBA if he was given significant minutes.