Just a few days ago Tyson Fury announced a match with Anthony Joshua taking place on August 14 in Saudi Arabia. People were confused, because Anthony Joshua hadn't posted anything about it. Now Anthony Joshua is reacting to an Arbitrator ruling that Tyson Fury must fight Deontay Wilder by September 15 per their rematch clause, and he isn't happy his name was used to promote a fight that probably won't happen.
In a viral rant Anthony Joshua called Tyson Fury a fraud for announcing a fight against him knowing that he still owed Deontay Wilder a rematch per their contract. Anthony Joshua accused Tyson Fury of lying to his fans, using his name for clout, and letting down boxing. It appears he longer wants to step in the ring with Tyson Fury, because he ended his rant saying "bring me a championship fighter who knows how to handle their business correctly. It's clear Tyson Fury isn't that guy anymore in his eyes.
This was the official announcement of the boxing arbitrator's ruling that Tyson Fury must fight Deontay Wilder before Anthony Joshua. This was revealed the day after Tyson Fury claimed it was official that he would fight Anthony Joshua.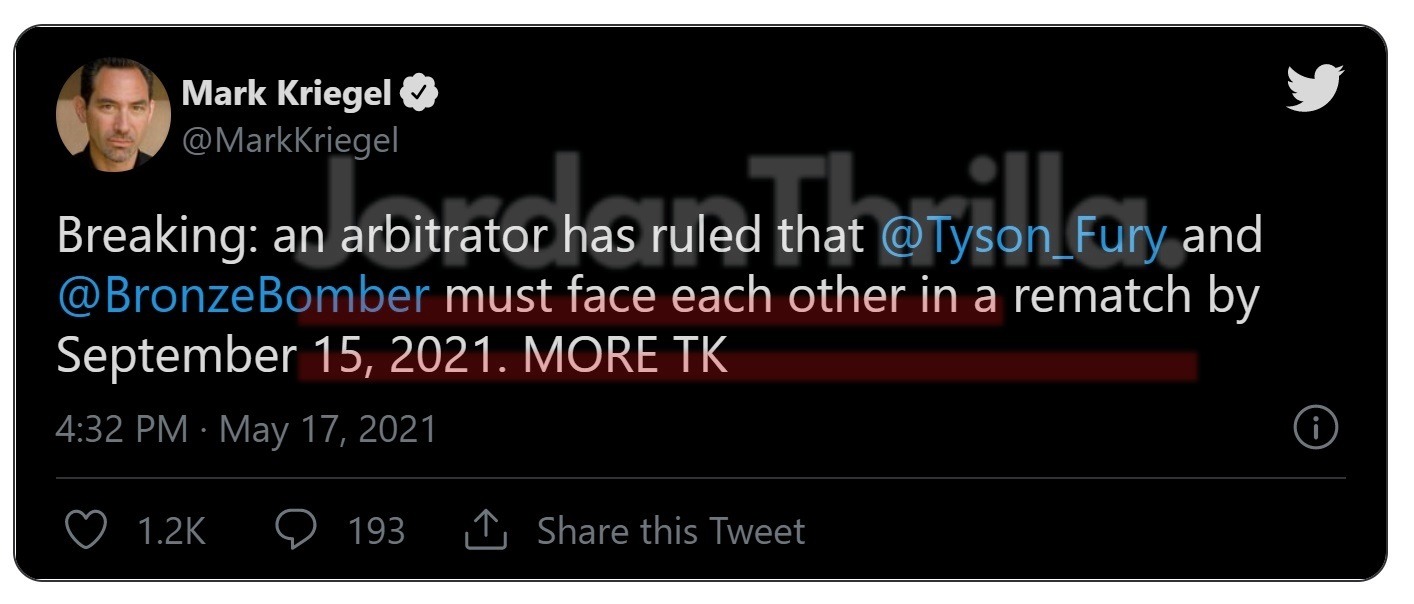 The video below was Tyson Fury officially announcing his match against Anthony Joshua, knowing that he had to fight Deontay Wilder first. Tyson Fury claimed that he thought his rematch clause with Deontay Wilder had expired, but investigation has proven it clearly hasn't, which means he was exposed for ducking.
There was a chance that Tyson Fury could possibly forfeit his belt, which would have enabled him to avoid facing Deontay Wilder, but that would basically mean he's admitting ducking. There was also chance that Deontay Wilder would agree to fight the winner of the Fury vs Joshua match by taking money to step aside. It seems like neither of those scenarios will happen, because Anthony Joshua lost respect for Tyson Fury and doesn't see him as a worthy opponent anymore.
All in all it seems like Tyson Fury might be scared of Deontay Wilder, which supports a theory he might have cheated in their first fight. However, unless he want to tarnish his boxing legacy he will probably have to agree to fight Deontay Wilder by September 15 like the boxing arbitrator stipulated.
Author: JordanThrilla Staff