When it comes to tall players in the NBA with guard skills Brandon Ingram is one of the first players that comes to mind. At 6'8″ without shoes, his wiry skinny frame often gets compared to Kevin Durant, since they both play a similar style. What makes tall players like Brandon Ingram so special is that he plays like a smaller player in terms of his ability to handle the ball. It seems back in the day he dated like a smaller player as well.
Did Brandon Ingram Date a Dwarf Woman? Picture Showing Brandon Ingram's Alleged Dwarf Girlfriend Goes Viral
Recently a photo started trending on Twitter showing a younger Brandon Ingram sitting on steps with a small woman who probably isn't much taller than half of his leg. The dating world can be a strange place sometimes in that short guys sometimes really like taller women deep down, and on the flipside really tall guys sometimes like really short women. Also short guys worry about being too short, while tall women worry about being too tall. Height always plays an important part of attraction in one form or another.
The viral photo appears to show that Brandon Ingram had a dwarf girlfriend. However, based on our research she might not even be a little person, but a woman on the cusp of dwarfism. In the United States a person has to be at most 4 feet 10 inches to be considered a dwarf. The little woman with Brandon Ingram is allegedly around 5'1″ in height. In addition you can see her arms are normal sized.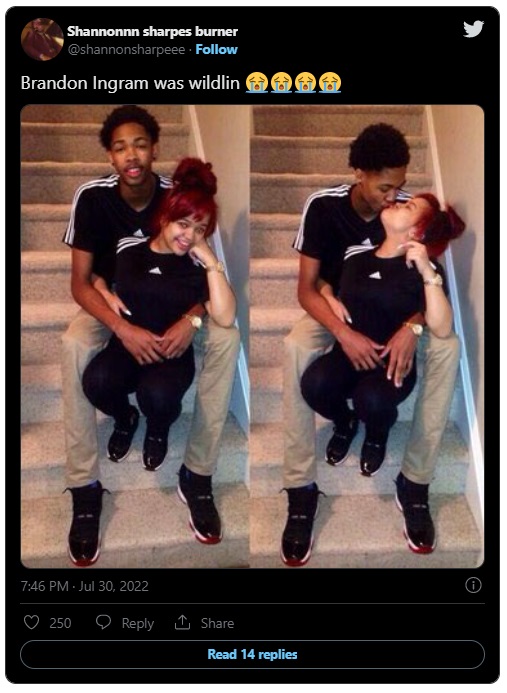 On social media many people are saying the photo is proof that Brandon Ingram has a fetish for little people. However, maybe he just liked her, because of her personality and it had nothing to do with her height. Whatever the case maybe he sure did look happy with her back then, considering he doesn't seem to smile much these days at least with cameras around. He truly likes woman of all shapes and sizes.