Zion Williamson is now a superstar on the New Orleans Pelicans with a max-contract creating generational wealth for his family. On the court his dominance and athleticism is Shaq like, and has been so since his high school days. However, there was once a time a small white defender name Bryson Bishop stood toe to toe with Zion Williamson in high school with no fear on defense. Now things have come full circle as the two reconnected recently.
Zion Williamson Meets Bryson Bishop at Pelicans Arena 5 Years After Their Viral High School Matchup
Recently Bryson Bishop was in New Orleans to watch the Pelicans take on the Atlanta Hawks. Considering they were in the same arena it was only right that Zion Williamson met up with Bryson Bishop before the game to to recreate the viral photo from their high school days. If you've never seen the footage when the game between Oakbrook Prep and Spartanburg Day began Zion pointed at the 5'6″ Bryson Bishop with a perplexed look on his face as if he was saying "who does this small guy think he is".
Now 5 years later Zion Williamson is still a lot bigger than Bryson Bishop, but he has also grown too. The picture conveys how fast time flies. Take a look.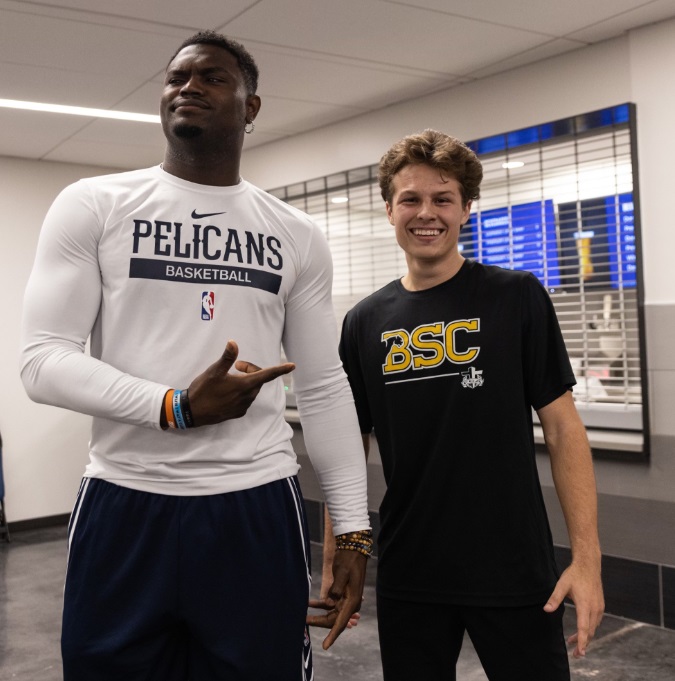 Although he isn't in the NBA Bryson Bishop is a star in his own right due how fearless he was guarding Zion in high school. The video of their matchup now has over 6 million views and counting.