Recently, actor Jonathan Majors was featured on the cover of EBONY magazine, and the cover is stirring up a lot of controversy. On the cover, Majors is wearing a pink fur coat, women's jeans, and has his legs crossed in a very feminine position. He is also striking a "duck lip" pose and the background is a bright pink color. This has caused a rift between anime fans and Black activists, as the two groups have very different views on what the cover signifies.
Black Activists Claim Jonathan Majors EBONY Magazine Cover is Evidence of the Emasculation of Black Men in Media Conspiracy Theory
Black activists believe that the cover promotes the emasculation of black men in the media. They point to the fact that black men are often portrayed in a feminine manner through their clothes, accessories, and how they are told to act. Furthermore, they argue that this is an issue that has been around for a long time, and that the media has been complicit in perpetuating this narrative. Conspiracy theorists believe the media emasculates black men in attempt to destroy black families from thriving.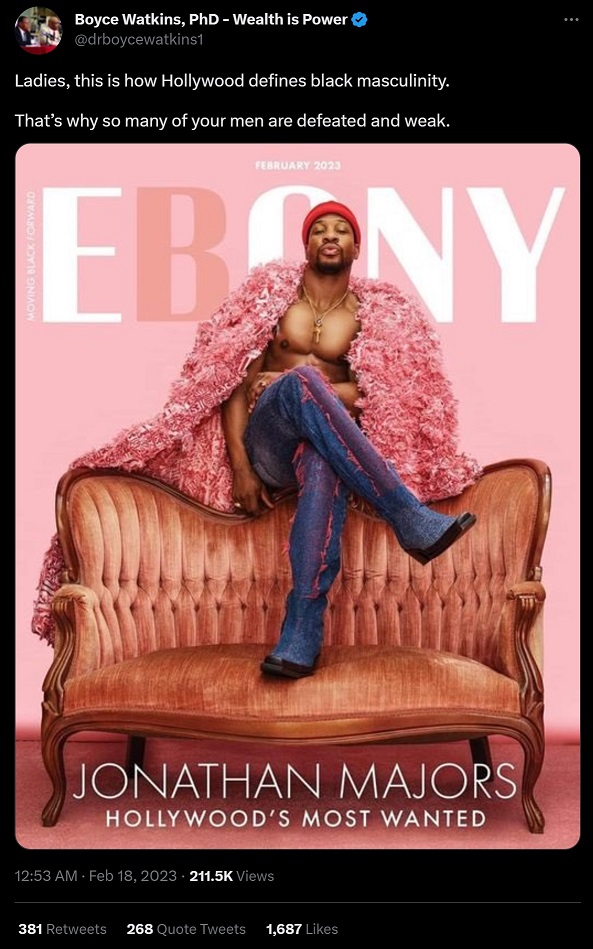 Anime Fans Believe the Show 'One Piece' Inspired Jonathan Majors EBONY Magazine Cover Outfit and Pose
Contrary to black activists, Anime fans believe that the Jonathan Majors EBONY magazine cover pays homage to the One Piece character Donquixote Doflamingo, who is often portrayed in a similar way. They also point out that there are many other characters in the anime world who dress and act in a similar way, and that this is a common trope. However, if you go by the theory from Anime fans one could argue that the choice of using a feminine anime character as the inspiration proves the point black activists are trying to make.

The debate between anime fans and Black activists is an important one, as it highlights the ways in which black people are portrayed in the media. It is clear that there has been a long-standing narrative of black men being portrayed in a feminine manner, and this cover has only served to amplify those conspiracy theories. While anime fans may have a different interpretation of the cover, the issues that it brings up are still important and need to be addressed.
Ultimately, it is important to recognize that there could be more to the picture than meets the eye. While anime fans may be divided on this issue, they should also take into account the perspective of Black activists. It is important to consider the history of how black men have been portrayed in the media, as well as the current conversations that are taking place around this topic.