A Corpse Husband Onlyfans for his Hand? Hashtag #Onlyhands is viral, because of none other than Corpse Husband's hand. Corpse Husband was complaining about stream E-Girls ruining his life, but his hand seemed to capture fans' attention.
Hashtag #Onlyhands went viral after Corpse Husband posted a video of his hand with the term "onlyhands". Fans reacted to the Corpse Husband's hand video by posting video of their own hands. No one seemed to care much about the stream e-girls ruining Corpse Husband's life. It was possibly one of the strangest trends ever on social media.
Take a look at fans reacting to Corpse Husband's hand, plus the video that started it all.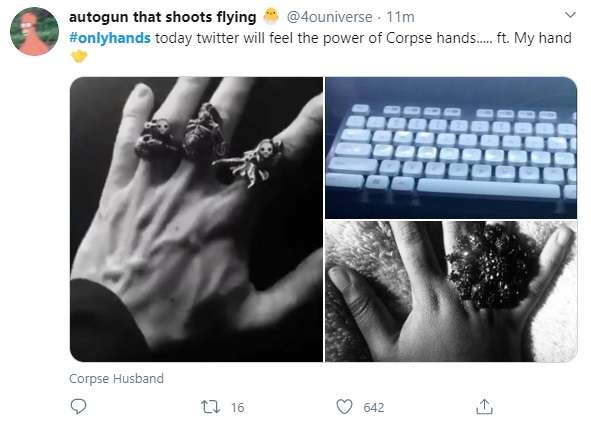 We'll probably never look at hands the same way after #onlyhands start trending because of Corpse Husband. #Onlyhands seems like a play on Onlyfans. Theoretically it would be an Onlyfans where you can only show your hand. Does that exist already?
If you're wondering who Corpse Husband is, here is a quick summary. Corpse Husband is a famous storyteller who only tells scary stories. What makes his storytelling unique is that he never reveals his face, which adds to horror affect of his narration. Corpse Husband's YouTube channel has millions of subscribers, and could be considered one of the most popular horror channels in the entire world.
Based on the reactions a Corpse Husband Onlyfans for his hand would probably make a lot of money. Maybe he is on to something by making #Onlyhands start trending.
Author: JordanThrilla