Devin Booker's game winner on Clippers popped their Orlando Bubble in the basketball sense. With no time left Devin Booker hit an impossible fadeaway game winner crushing the Clippers soul. In what was must win game for the Phoenix Suns, Devin Booker showed why he's paid so much money.
Take a look at Devin Bookers game winner on the Clippers.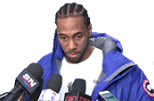 Some people feel Devin Booker is overrated. Year after year excuses are always made for the Suns being beyond terrible, when other superstars would of easily had them in playoffs. This Devin Booker game winner on Clippers who are a contender, could be the turning point that propels the Suns into the playoffs.
That's two losses in their last 3 games for the Clippers.
Author: JordanThrilla