Does Lil Nas X attracted to women too? On January 9th, 2023, rapper Lil Nas X took the world by storm when he announced that he might be bisexual. The 20-year-old Atlanta native, whose real name is Montero Lamar Hill, had been steadily rising to fame since his breakout single "Old Town Road" hit the Billboard Top 100 in 2019. On this day, Lil Nas X took to Twitter to express his potential true feelings. He posted a message that read, "Be fr would y'all be mad at me if i thought i was a little bisexual".
The tweet was met with an outpouring of support from fellow celebrities, LGBTQ+ advocates, and other fans. While it's unclear whether the rapper was announcing his sexuality in the tweet, or simply asking a question, the statement was bold enough to send millions of people into a frenzy. People are yearning to know if Lil Nas X come out the closet for the second time in his career.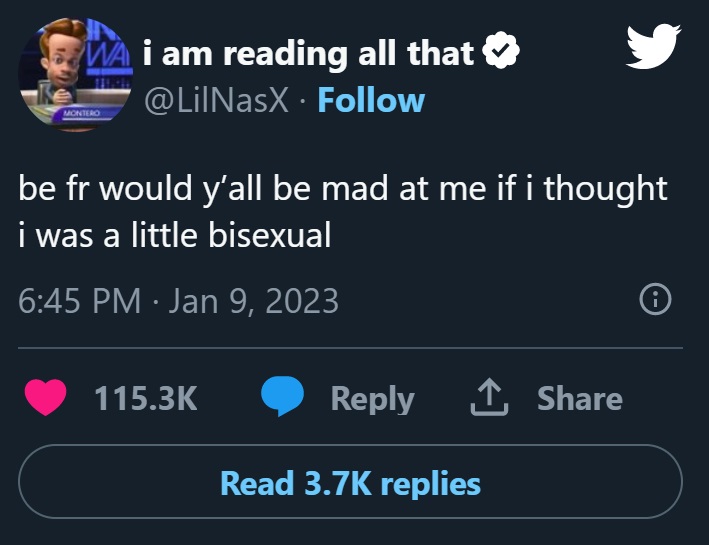 The response to Lil Nas X's tweet was overwhelmingly positive, with many praising him for his bravery and openness. Interestingly Lil Nas X hinted that he might like women in the past. First was the tweet from 2020 where he talked about how he would serve his "queen" in a relationship, and used the words "she".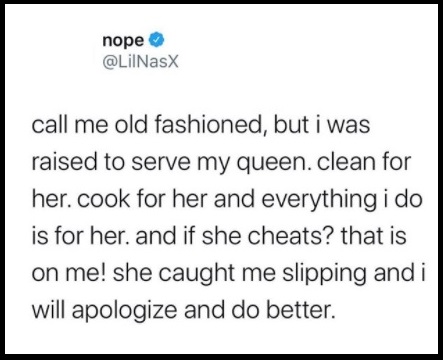 In 2021 he was on an IG Live where he seemed to be getting a bit cozy with a woman.
If 20 years from now people find out that Lil Nas X faked being gay his entire career, that would be definitive proof we live in a computer simulation. It would be like the music world version of the Jussie Smollet case. Has there ever been a celebrity that came out the closet twice?