Russell Wilson is not letting Future's latest diss get to him, or so it seems. The NFL star posted a picture on his Instagram account of him walking on the football field with Future's son, whom he has been raising as his own since he married Ciara in 2016. He captioned the photo, "Best part of the day dad life".
Is Russell Wilson Dissing Future?
The post came after Future seemingly took a shot at Wilson in his new song with Quavo, "Turn Yo Clic Up." In the what is now being called a "Russell Wilson diss track" on social media, Future raps, "I got it out the field, f–k Russell".
This is not the first time Future has expressed his animosity towards Wilson, who is the stepfather of his 9-year-old son, Future Zahir. The rapper and Ciara dated from 2012 to 2014 and got engaged in 2013, but they called it off after Future allegedly cheated on her.
Ciara then started dating Wilson in 2015 and they tied the knot in 2016. They have two children together, Sienna and Win.
Future and Ciara have had a contentious co-parenting relationship over the years, with Future accusing Ciara of having "control problems", and suing her for slander and libel in 2016. The case was later dropped and they reached a custody agreement.
Check out the viral post from her husband. Did Future just take a public L?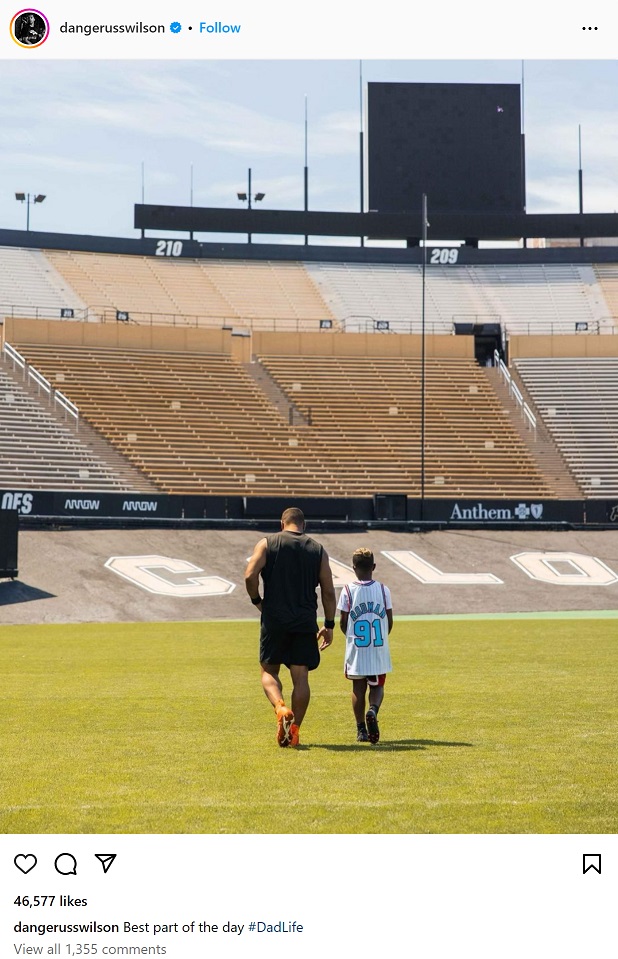 Future didn't take sneak diss route, and clearly said Russell's name.
Future has not responded to Wilson's post yet, but it seems like he has nothing to say that can tarnish Wilson's image or happiness. Wilson has proven that he is above the drama, and that he loves his family unconditionally. He has also shown that he is not intimidated by Future's fame or fortune, as he is one of the highest-paid athletes in the world, and has a successful career of his own.
Wilson's Instagram post was a classy, and clever way of shutting down Future's negativity, and showing him that he has no power over him or his family. It was also a way of celebrating his bond with Future Zahir, and letting him know that he is proud to be his dad.
Wilson's post was a perfect example of how to handle a beef with grace, and positivity. There's just no way to hate on that at the end of the day.