A video circulating on social media has people wondering if Doja Cat does cocaine. In the footage there are several details about her appearance and movements that peaked the interest of eagle eyed netizens. Question is, are they looking too hard for something that isn't there, or are the signs really a indicative of drug use?
Why a Video Has People Wondering if Doja Cat is a Coke Head
The video shows the singer looking very dehydrated with her eyes sunken in, with fidgety movement, and also having drastic weight loss. The footage has people questioning if she was or is currently doing crack.
Doja Cat, whose real name is Amala Ratna Zandile Dlamini, is a popular American singer, rapper, and songwriter. She rose to fame in 2018 with her viral hit "Mooo!", and has since released two successful albums, Hot Pink and Planet Her. She has also collaborated with artists such as Ariana Grande, The Weeknd, and SZA.
However, Doja Cat has also faced some controversies and criticisms in her career. She has been accused of racism, and cultural appropriation by some of her fans and critics. She has also been involved in some online feuds with other celebrities, such as Nas and Lana Del Rey.
The video, which appears to be from last year, has sparked the Doja Cat crack head conspiracy theories. It was first seen circulating on Reddit and Twitter. In the footage she appears to be responding to all the negative comments from people whom expressed less than stellar opinions about the quality of her music. Interestingly, Doja Cat is one of the heavily scrutinized artists in recent times.
There is no concrete evidence that Doja Cat is addicted to cocaine, despite all the speculation. The video does not show Doja Cat doing any drugs at all, and rather has what could be coincidental evidence based on her physical features, and movements.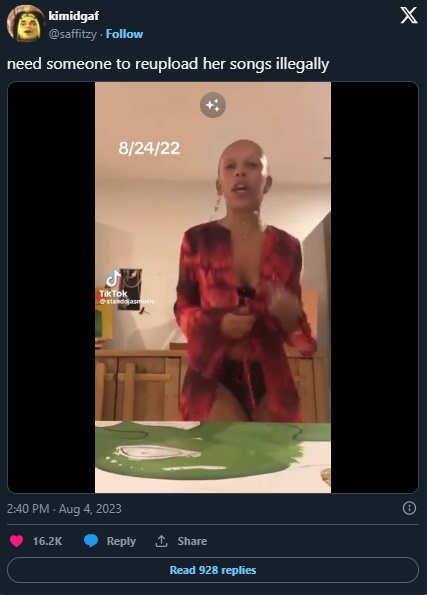 It is possible that Doja Cat's new look could be because she has just gotten healthier. Sometimes when people lose weight, it can make them appear to have health issues while their body adjusts, and skin tries to shrink down to the new body size.
She has never really addressed the weight loss allegations or her health status, but she has posted some recent photos and videos on her Instagram account where she looks happy and healthy. If there is any truth to the conspiracy theory that Doja Cat is a crack head, it wouldn't really be that surprising considering the height of fame she reached