Some years ago Pusha T introduced Drake's son Adonis to the world. The situation was super strange, because it should have been Drake who introduced his son to the world, but he was apparently trying to hide him from the world. After 'Story of Adidon' went viral Drake was effectively forced to be a public father figure to his son. Now many years later in 2022, Drake may have sent a subliminal message to Pusha T about fatherhood, and it may not be hostile.
Why Did Drake Quote Pusha T Lyrics While Posting a Video of His Son? Details Behind Conspiracy Theory Drake Squashed Beef with Pusha T
Recently Drake posted an absolutely adorable video of a father son moment with his son Adonis, but the caption set social media on fire. It appears Drake quoted lyrics from the Clipse song 'Cot Damn'. In the song Pusha T has a line saying, "I been around the world thrice times, I mean what I say. From that Panama sun to France's Champs-Elysees". As you'll see in the IG post below it seems Drake quoted the Pusha T lyrics with a caption saying,
"I been around the world thrice times I mean what I say."
Now it could be a coincidence, but pay attention to the word "thrice". That's not a word you randomly use, so that seems like concrete evidence he is quoting Pusha T. Some fans think this is Drake's way of squashing the beef with Pusha T for good. It's well known that Drake was a Pusha T stan before that beef happened, so maybe he's letting bygones be bygones. It's also possible Drake is thankful about Pusha T forcing him to be a public father. Take a look.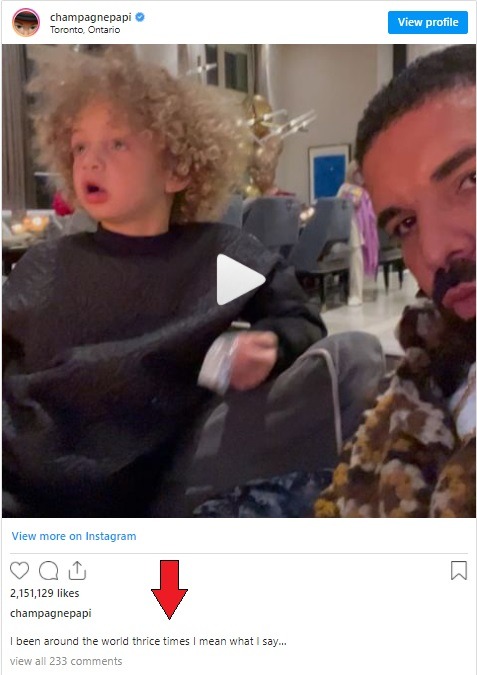 Here is the Clipse 'Cot Damn' song Drake seemingly quoted the Pusha T line from. Skip to the 2:18 mark.

There aren't many other reasons Drake would use Pusha T lyrics with a video of his son Adonis unless he is trying to make peace.
This couldn't possibly be a way of dissing Pusha T could it? It will be interesting to see if he reacts publicly to Drake's possible subliminal message. Then again Drake and Kanye West publicly squashed their beef, so maybe him and Pusha T have talked behind the scenes about their issues.