Lil Meech and Summer Walker have been sparking romance rumors for a while now. The BMF star and the R&B singer have been seen hanging out together, and even posting each other on social media. Recently their relationship was confirmed, but it couldn't have come at a worst time.
A Lil Meech Celina Powell OnlyFans Video Tape Leaked Just Hours After Summer Walker Went Public with Their Relationship.
The first hint of a possible connection between Lil Meech and Summer Walker came in late April 2023, when fans noticed that Summer was wearing a pink balaclava mask while attending a party with Lil Meech. The mask matched his pink phone case, which was also spotted in a reflection on his Lamborghini's dashboard in a photo that Summer posted on her Instagram. Fans quickly speculated that Summer was trying to hide her identity while spending time with Lil Meech.
The speculation ended recently when the Summer Walker posted of picture of them together wearing matching mustaches. However, that happy mood of their romance was dampened by the legendary vixen Celina Powell. According to reports a Celina Powell tape with Lil Meech was leaked by her OnlyFans account. According to people who saw the video it shows her engaging in mouth stimulation while Lil Meech is sitting on toilet without his pants on. In addition she posted a picture wearing his BMF Chain on Instagram. Take a look at some reactions from social media.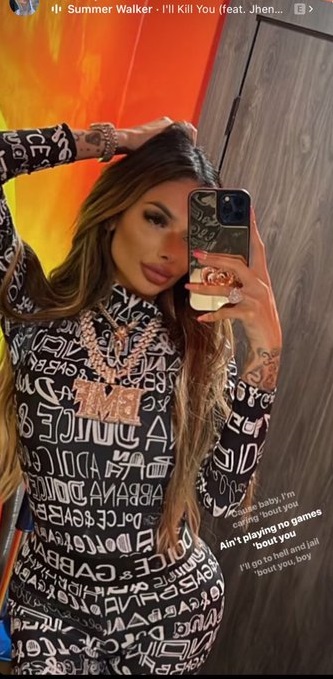 Does Celina Powell's Leaked OnlyFans Video Mean Lil Meech Cheated on Summer Walker?
Naturally with the timing of this shocking situation, many people are wondering if the leaked tape with Celina Powell is proof that Lil Meech cheated on Summer Walker. At the moment that's tough to confirm, because there's no telling when the footage was actually recorded. Maybe it was prior to him developing a bond with Walker. It's also possible that it could have happened after they were already seeing each other, but hopefully that's not the case. The picture of her wearing his BMF chain says a lot though.
Lil Meech and Summer Walker have a lot in common besides their music careers. They are both parents of three children from previous relationships. Summer has a daughter with producer London On Da Track and twins with designer and aspiring rapper LVRD Pharoh, aka Larry. Lil Meech has two sons and a daughter with different mothers. Both Summer and Lil Meech have had their share of drama with their exes, but they seem to have moved on.
Lil Meech is the son of Demetrius Flenory Sr., better known as Big Meech, the co-founder of the notorious Black Mafia Family (BMF). He plays his father on the hit Starz series BMF, which is based on his life story. He has also appeared on HBO's Euphoria and in a movie called Taurus starring Machine Gun Kelly. Summer Walker is one of the most successful R&B artists of her generation, with two chart-topping albums.
Unless she was hacked, it was Celina Powell who leaked the tape with Lil Meech on her OnlyFans account, which means she probably meant to do damage to Summer Walker's ego. Why else would the tape leak right after their relationship went public? Why else would Celina post a picture wearing Lil Meech's BMF chain? Is she trying to show Summer Walker the type of guy Lil Meech really is, or just clout chasing?