If you are a fan of hip-hop, you may have heard of Freddie Gibbs, a rapper who has collaborated with artists like Madlib, The Alchemist and Curren$y. But recently, Gibbs has been making headlines for a different reason: his ex-girlfriend's graphic photo claims. Now DJ Akademiks feels that he has won the beef, and he posted an epic tweet to prove his point. Before getting into that we should talk about the nickname "Spreadie Gibbs" for the people who may not know it's origin.
Why are People Calling Freddie Gibbs "Spreadie Gibbs"
According to several news sources , Gibbs' ex-girlfriend, who goes by the name of Destini Creams and is an adult film actress, accused him of abandoning her when she got pregnant with their child. She also claimed that she had a picture of him spreading his butt cheeks in her phone, which he allegedly sent her during their relationship.
Those allegations led to Freddie Gibbs being donned with the hilarious nickname "Spreadie Gibbs", which seems like something that will follow him for the rest of his career, whether the allegations are true or not. One of his main enemies over the past few months has been none other than DJ Akademiks, and he feels he has this situation in the bag in terms of a victory as you'll see below.
DJ Akademiks Posts Picture of Freddie Gibbs' Pregnant Baby Mama in an Adult Film Bang Bus Video with White Man
In a viral tweet captioned, "Since you N***** like writing letters… here go one… DEAR HATER @FreddieGibbs I WON", DJ Akademiks posted a picture that speaks a million words. In the photo is Freddie Gibbs pregnant baby mother in an Adult Film Bang Bus video with some white man. The picture is crazy, because while she is making that film Freddie Gibbs' child is growing inside her belly.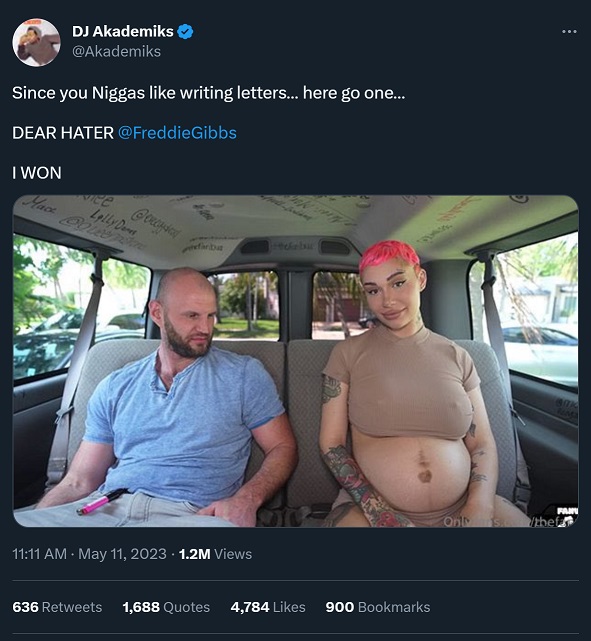 While this situation may be entertaining if you like hip-hop beefs, it's also all kinds of sad. You have a pregnant woman who allegedly had to continue making adult film videos, because the father Freddie Gibbs aka Spreadie Gibbs abandoned her. In reality everyone loses in this situation.