Southside defending Yung Miami's honor seems to be growing trend in recent weeks. A few days ago he threatened Lil Uzi Vert for disrespecting her. Now Southside wants fight Kodak Black for disrespecting Yung Miami as well.
In a series of two videos Southside told Kodak Black he can bring his people and he will bring his, so they can scrap one on one. In a longer video he call out Kodak Black's street credibility in Miami area, while insulting him.
He claims Kodak Black isn't in the streets like that in Miami.
Footage of Southside challenging Kodak Black to a fight
Footage of Southside Calling Out Kodak Black Street Cred in Miami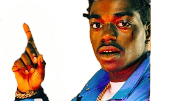 If Southside fights Kodak Black they should make it a livestream event like a boxing match or something. Everybody would tune in to watch that, and they could make a lot of money from it.
Considering the fact that Kodak Black was just released from prison after getting a Presidential Pardon from Donald Trump, it's highly unlikely he will get himself involved in a street fight with Southside.
It's very likely he will make a verbal response to these videos though.
Author: JordanThrilla Staff