Florida rapper Gunplay, whose real name is Richard Morales Jr., is facing multiple charges after he allegedly threatened to commit suicide, and kill his wife and daughter in a violent domestic incident. Apparently the scary incident all began with a game of Call of Duty. Now people are comparing Gunplay to Chris Benoit, the WWE wrestler who went crazy.
What is Gunplay Being Charged With?
The 44-year-old rapper, who is signed to Rick Ross's Maybach Music Group, is accused of attacking his wife VonShae, brandishing an AK-47, and choking his 6-month-old daughter while saying, "we are all going together".
According to police reports, Gunplay's booking report says he is being charged with battery, aggravated assault with a deadly weapon, domestic violence, false imprisonment, and child abuse. His bond was set at $20,000. Gunplay's mugshot after his arrest has since gone viral.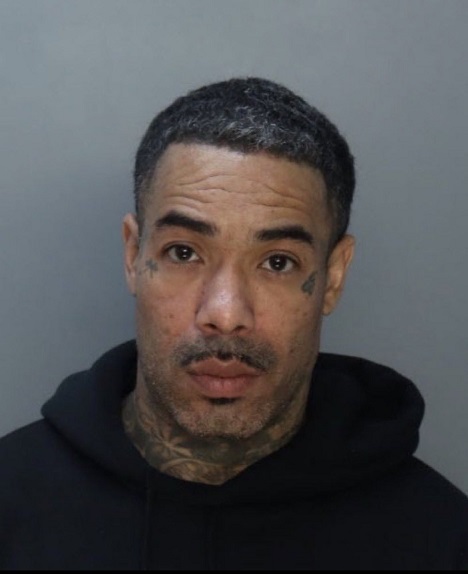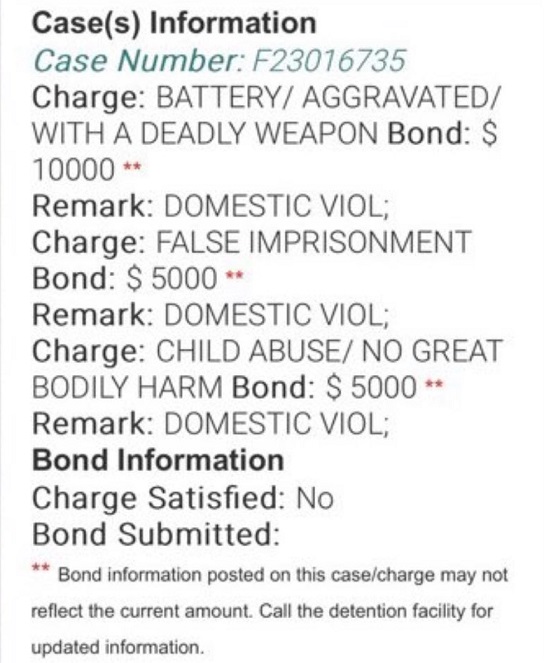 Gunplay's Wife VonShae Speaks Out Confirming She's Filing for Divorce and Explains How Call of Duty Led to Threats of Murder Suicide Allegedly
Gunplay's wife VonShae spoke out on Instagram after his arrest, claiming that she is filing for divorce. In her message, she alleges that Gunplay has a very bad drinking problem. She also detailed what happened on the night of the incident, claiming that she asked Gunplay to quiet down, because he was yelling while playing Call of Duty, which enraged him.
When she saw him getting mad, she allegedly tried to pack her things, so she and their daughter could go to a hotel room while he sobered up. Gunplay allegedly didn't want them to leave, which led to the altercation, and Gunplay threatening to commit murder-suicide by allegedly telling them "we are all going together".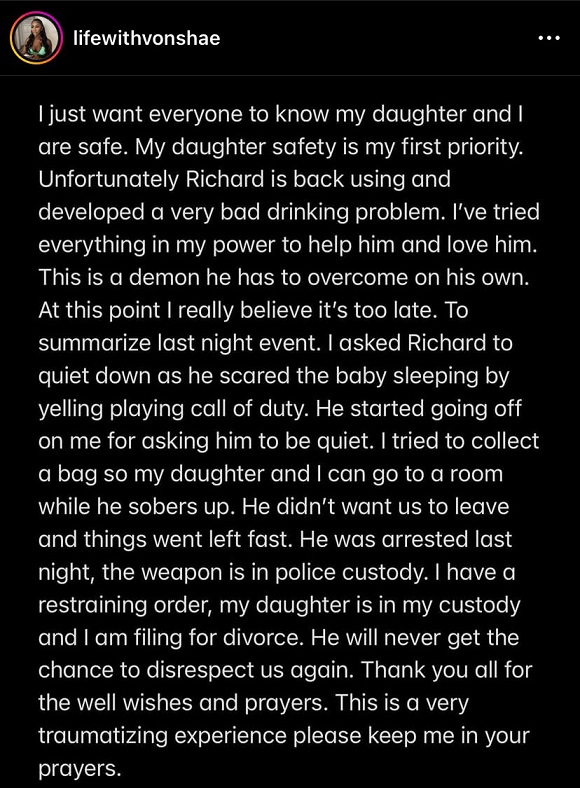 Gunplay Practices Voodoo
It was interesting to see his wife Vonshae mention his "demons", because in the past it was revealed that Gunplay practices voodoo. He even makes animal sacrifices by cutting chickens and goats. He claims that Voodoo helped him beat a life sentence.
Gunplay's Alleged Murder-Suicide Threat Draws Comparison to Late Wrestler Chris Benoit
The shocking case has drawn comparisons to the infamous Chris Benoit double-murder and suicide that occurred in 2007. Benoit, a Canadian professional wrestler who worked for WWE, WCW, and ECW, killed his wife Nancy and their 7-year-old son Daniel before hanging himself at their residence in Georgia.
Autopsy results showed that Benoit's wife died of asphyxiation on the night of June 22, and their son died of asphyxiation on the morning of June 23. Benoit killed himself on the evening of June 24. He placed Bibles near the bodies of his wife and son.
The motive for Benoit's crimes has never been conclusively determined, but some possible factors include severe chronic traumatic encephalopathy (CTE), a condition of brain damage caused by repeated concussions; steroid and alcohol abuse; and personal problems such as marital issues and depression.
Benoit's legacy in the professional wrestling industry has remained controversial and heavily debated ever since. He was widely regarded as one of the best technical wrestlers of all time, having won numerous championships in various promotions. He was also a two-time world champion, a WWE Triple Crown Champion, a WCW Triple Crown Champion, and the 2004 Royal Rumble winner. However, due to his murders, WWE has largely erased him from their history and media platforms.
Some fans and commentators have expressed shock and disbelief at the parallels between Gunplay and Benoit's cases. Both men were successful in their respective fields of entertainment, both had histories of substance abuse and violence, both allegedly snapped and tried or threatened to kill their families with strangulation and firearms.
Thankfully in Gunplay's case he didn't actually go through with it, and his wife and daughter are now safe. Gunplay has not released any statement or comment on the allegations against him. His lawyer has not responded to requests for interviews. His fans have expressed mixed reactions on social media, with most condemning him.