Recently sad news shook up social media when Bogalusa police reported that rapper JayDaYoungan was shot dead in Louisiana. At the moment police have described the situation as 'fluid', because they are still investigating why this tragedy happened. However, they already have a strong belief in terms of the motive, and due to a past case there is now a trending JayDaYoungan snitch conspiracy theory.
Did JayDaYoungan Snitch? Bogalusa Police Report Sparks Conspiracy Theory JayDaYoungan Was Shot Because He Snitched
Police reports state that around 6 pm on Wednesday they responded to shots being fired on the 600 block of Superior Avenue. Upon arriving at the scene they found two people wounded, JayDaYoungan, and his father Kenyatta Scott Sr. JayDaYoungan's father was transported to Our Lady of the Angels Hospital with non fatal injuries, and JayDaYoungan was taken to OLA ER with critical injuries, but doctors weren't able to save his life.
According to a report from WWL-TV news, Bogalusa police strongly believe that the motive behind the JayDaYoungan shooting was retaliation of some sort. The police's theory became more plausible when a rumor started to swirl that there was shooting in the Our Lady of the Angels hospital parking lot where JayDaYoungan was undergoing life saving surgery. This left people wondering why the people who murdered JayDaYoungan wanted him dead so bad.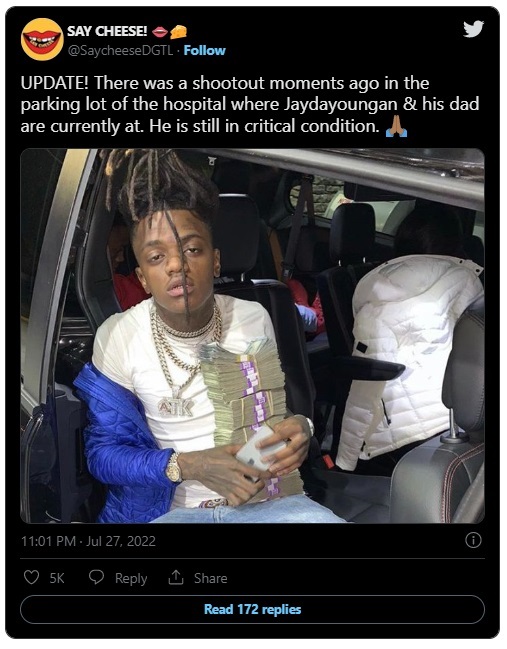 Conspiracy theorists started to think back to December of last year when JayDaYoungan was arrested on federal weapon charges after FEDS caught him with an unregistered gun and marijuana. This led people to wonder if JayDaYoungan snitched to the FEDS because of those charges.
Fast forward about 6 months later now we are hearing JayDaYoungan was shot dead, is that a coincidence? Is it possible that the shooters killed JayDaYoungan because he snitched? It should be noted that this shooting also happened after the alleged incident where JayDaYoungan beat up his baby mama, so some people also think that could be connected as well.