An American rapper and hip hop artist, Alexander Woods better known as Big Scarr was a prominent member of Gucci Mane's 1017 Records. He was most famous for his single "SoIcyBoyz", which featured big names such as Pooh Shiesty, Foogiano, and Tay Keith. His debut mixtape, Big Grim Reaper leveled out at number 25 on the Billboard 200. He was on a historic run, but sadly he reportedly passed away today at only 22 years old.
Did Big Scarr Overdose? Details About His Possible Cause of Death
Multiple reports seem to have confirmed that Big Scarr is dead. While the details of his passing are still developing, there are some reports suggesting that Big Scarr accidentally overdosed on Percocets. The situation is too tragic, because during some of his Instagram Live sessions it was evident he seemed to be completely spaced out. Naturally the news has devastated the hip-hop community, which led to heartbreaking reactions on social media.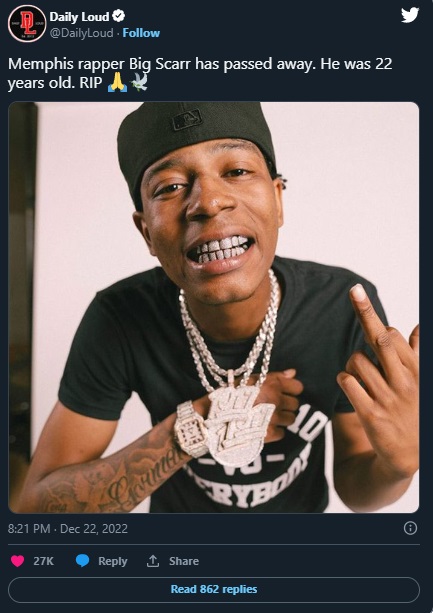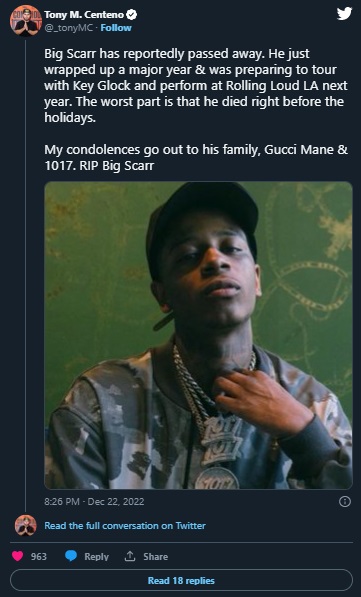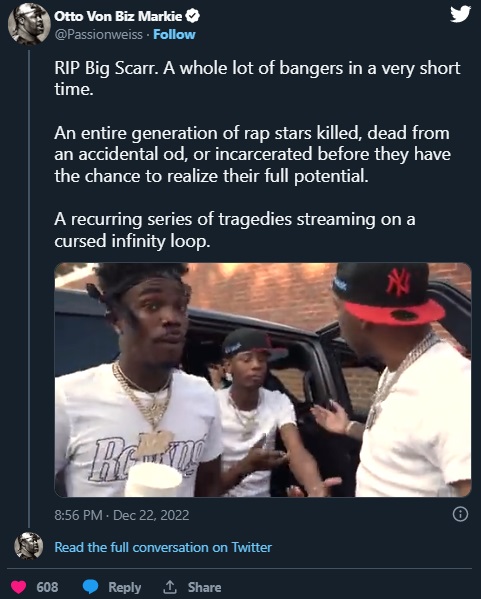 Old Video of Big Scarr High on IG Live Sparks Controversy After His Possible Overdose
With the news spreading that Big Scarr may have accidentally OD'd, some of the old footage that may have shown his growing drug problems began to trend. In one video that has sparked the most intense reactions it appears Big Scarr was so high on Instagram live he could barely talk. People on Twitter were posting screenshots and the actual video, while calling out people who were laughing at him while seeing him in that state of mind.
That screenshot comes from the footage below.
The Story of How Big Scarr Got His Stage Name
Alexander Woods was brought into the world on April 7, 2000, and was raised in the Magnolia locality of South Memphis. He comes from a large family of eight brothers and sisters. Up until he was thirteen years old, he lived with his grandmother until her death.
At 16, Woods reportedly survived being thrown through the windshield of his friend's car during a very serious car accident. The injuries from the accident left a big scar on him emotionally, and physically. Going through that tough situation is reportedly the reason he chose the legendary rap name "Big Scarr".