Former President Donald Trump was arrested on August 24, 2023, on charges related to the 2020 presidential election in Georgia. Trump's inmate number at Fulton County Prison is NO. P01135809. His mugshot was finally officially released to the public by the FBI, and it quickly became a viral sensation.
In his mugshot, Trump had a smug look on his face, almost like he was taking a campaign picture. He wore a red tie and a navy suit, and his hair was neatly combed. His mugshot is being touted as the most iconic of all time, since he is the first and only former president to be arrested, and face criminal charges.
Donald Trump Uses His Mugshot to Promote For His Website, and Conspiracy Theory Behind His Georgia Arrest
However, Trump did not seem to be ashamed or remorseful of his arrest. Instead, he seems to be using his mugshot as an opportunity to promote his website, and the conspiracy theory about the truth behind his arrest. He returned to X, the social media platform formerly known as Twitter, to make a post saying "Election interference, never surrender, DonaldJTrump.com". He included a picture of his viral mugshot in the tweet, along with a link to his website.
As of this writing, his tweet has over 500K likes, and hundreds of thousands of retweets and comments. Many of his supporters praised him for his courage and defiance, while others criticized him for his arrogance and delusion. Some X users even created memes and parodies of his mugshot, comparing him to celebrities, animals, and fictional characters. Everyone is taking advantage of this mugshot in their own ways, even Donald Trump himself it seems like.
Many people think that Trump turned his mugshot into a business move that is going to make him a lot of money. His website currently has a long personal message claiming he is innocent, and has committed no crimes. He insinuates that there is a huge conspiracy theory put in place by the Left Wing to make sure he never runs for president again.
His messages starts off saying, "A Personal Note from President Donald J. Trump. Today, at the notoriously violent jail in Fulton County, Georgia, I was ARRESTED despite having committed NO CRIME. America knows what is going on. What has taken place is a travesty of justice and ELECTION INTERFERENCE. The left wants to intimidate you out of voting for a political outsider who puts American people first".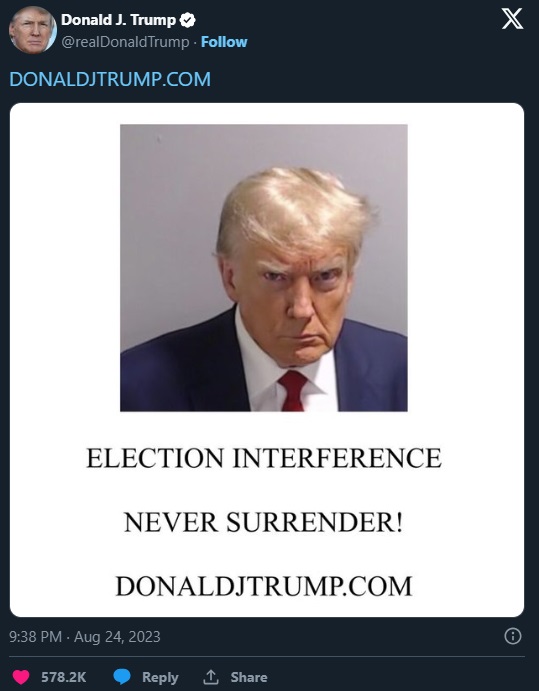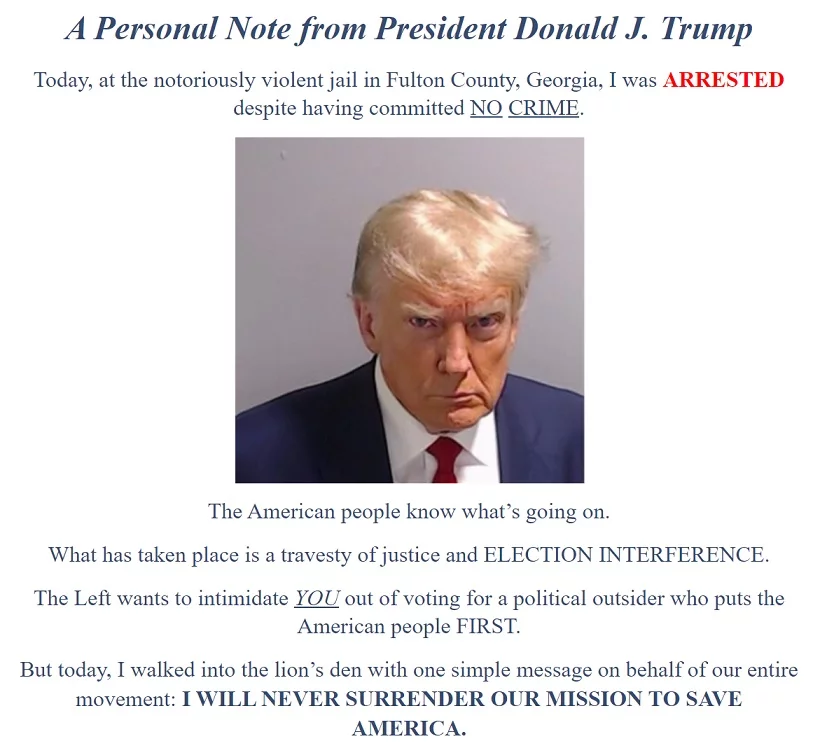 Trump's mugshot has become a symbol of his political legacy, and his controversial personality. Whether people love him or hate him, he has seemingly managed to turn his mugshot into another image that could become part of his campaign, and lucrative for his pockets.
In some ways he has proven once again that he is a master of media manipulation and publicity. It wouldn't be surprising if people start seeing Trump supporters proudly wearing T shirts with that mugshot on them, as sign of solidarity.