Is Lil Boosie Gay? Mike Tyson exposed Lil Boosie as possibly gay during a recent episode of Hotboxin. Mike Tyson asked Lil Boosie if he was gay, in a direct way that most people would be scared to do.
Mike Tyson insinuated that Lil Boosie is gay secretly, which is why he says offensive things about gay people in public very often. When Mike Tyson shared his sentiment with Lil Boosie the whole tone of his voice changed, as if Mike Tyson had figured him out.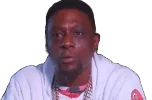 Does this mean Lil Boosie gay? Lil Boosie was stuttering as he said he only spoke about gay people, because of the Dwyane Wade situation.
When you listen closely to the way he conveyed his words it sounded like Lil Boosie didn't even believe what he was saying to Mike Tyson, as if he was extremely nervous from being put on the spot.
Did Mike Tyson expose Lil Boosie being gay? The world may never know, but there is video footage of Mike Tyson kissing men during his boxing career.
Author: JordanThrilla