Jack Nicholson, one of the greatest actors of all time, has been out of the public eye for almost two years. The 85-year-old star, who has won three Academy Awards and been nominated for 12, has not appeared in a film since 2010's How Do You Know. He has also been absent from major events and award shows, sparking rumors about his health and well-being.
However, on Thursday, April 13, Nicholson surprised his fans by making a rare public appearance on his LA balcony in Beverly Hills. He was spotted wearing an orange T-shirt looking looking very sleepy and disoriented. Many people feel it looks like he's going through something mentally and physically.
The photos of Nicholson's balcony appearance quickly went viral on social media, where many fans expressed their joy and relief at seeing him alive and well. However, some also commented on his appearance, which was far from his usual glamorous and charismatic self. Some said he looked like a homeless person who hadn't showered in months, while others compared him to Johnny Castaway, a screensaver character from the 1990s who was stranded on a desert island.
Jack Nicholson's Last Public Appearance Sparks Debate Over Whether It Has Actually Been 2 Years
Some fans claims that Daily Mail's headline is incorrect based on a photo from their own article. As you'll see below Daily Mail claimed his last public appearance before yesterday was in 2019, but strangely the photo shows him and others wearing a mask. Many people pointed out that that in 2019 mask wearing in public places was almost non existent, which means the picture was probably from 2021. In addition even it was in 2019, that would be more than two years ago.
Perhaps it was a typo on their part? Or were they caught trying to sensationalize a situation with a fake headline?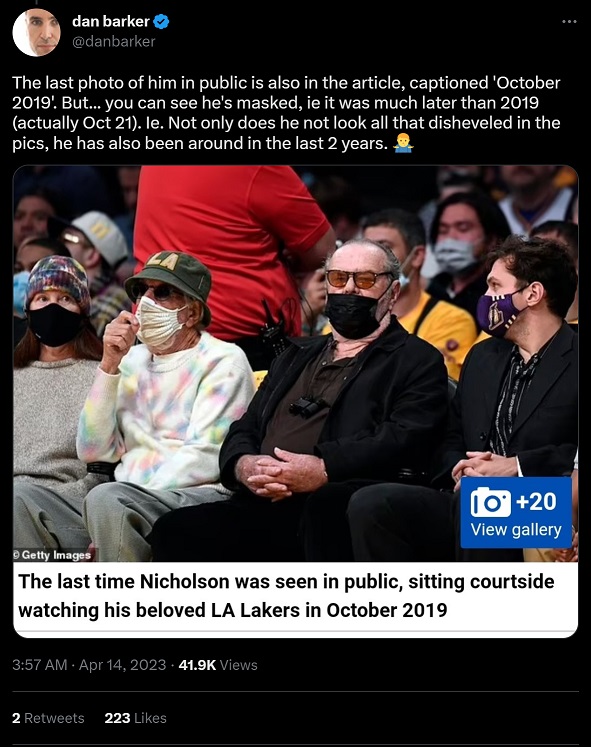 Nicholson's appearance may have shocked some of his fans, but it is not surprising considering his age and lifestyle. Nicholson has been known for his wild and rebellious behavior, which included heavy drinking, smoking, and drug use. He has also been involved with many women over the years, fathering six children with five different partners. He has never remarried after his divorce from Sandra Knight in 1968.
Despite his reclusive lifestyle, Nicholson remains one of the most respected and admired actors in Hollywood history. He has starred in countless classics, such as Easy Rider (1969), Chinatown (1974), One Flew Over the Cuckoo's Nest (1975), The Shining (1980), Terms of Endearment (1983), Batman (1989), A Few Good Men (1992), As Good as It Gets (1997), and The Departed (2006). He has also directed three films: Drive, He Said (1971), Goin' South (1978), and The Two Jakes (1990).
Nicholson's fans hope that he will make more public appearances in the future, or even return to acting if he feels up to it. However, they also respect his decision to live his life as he pleases. After all, he is Jack Nicholson, and he can look however he wants to look. Also all things considered he actually looks healthy for someone who is 85.