Ja Morant is one of the most exciting young players in the NBA. The Memphis Grizzlies star was an All-Star this season, and has led his team to a playoff spot in the competitive Western Conference. However, is also making headlines for some controversial off-court incidents that have tarnished his image and reputation.
The latest scandal involving Morant came on Saturday morning, when he posted a video on his Instagram Live that showed him posing topless in a strip club with what appeared to be a firearm in his hand. The video quickly went viral on social media, where fans and critics reacted with shock and dismay.
Some people also noticed that Morant was wearing a diamond pendant necklace that he received from Icebox and Nike, which added to the irony and absurdity of the situation. Others pointed out that Morant's video came just days after a Washington Post story revealed that he had been involved in several violent altercations with people at his mansion, including punching a 17-year-old boy 12 to 13 times and flashing a gun at him.
'Ja Wick' Memes Goes Viral after Ja Morant Flashes Gun on IG Live While Dancing at Strip Club
Not everyone was outraged by Morant's behavior. Some fans decided to make light of it by giving him a new nickname: "Ja Wick". The name is a reference to John Wick, the fictional assassin played by Keanu Reeves in a series of action movies. John Wick is known for his deadly skills with guns and knives, as well as his love for dogs.
The nickname Ja Wick quickly caught on online, as people made memes and jokes about Morant's resemblance to John Wick. Some even edited photos and videos of Morant to make him look like he was starring in a John Wick movie. Here is one example of how fans reacted with some hilarious Ja Wick memes.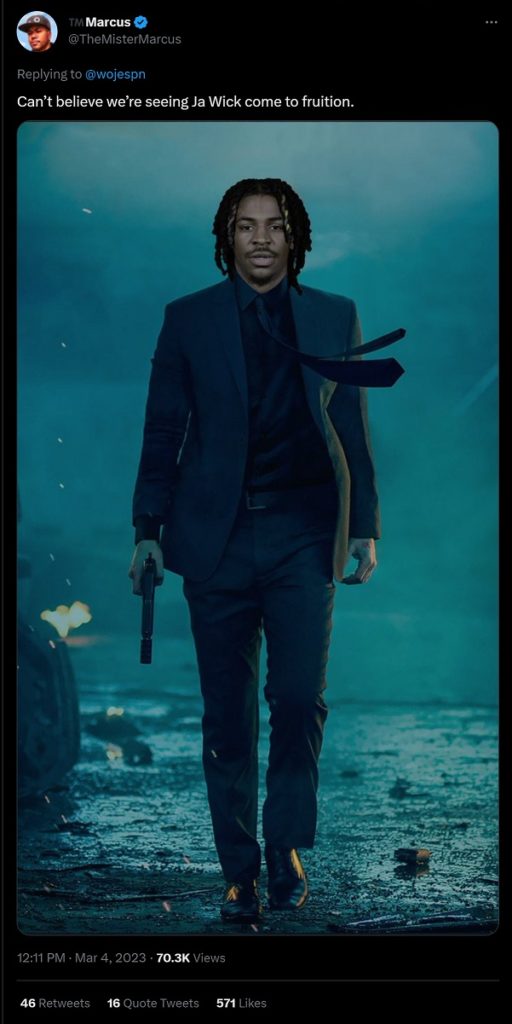 As the Ja Wick memes continue to the trend, the situation is taking a very serious turn as the NBA released a statement saying they are investigating the situation. It's not clear if an NBA player can get in trouble for simply owning a gun since that is a legal right in the United States, but who knows what hidden rules the NBA has considering they have to protect their image.