You know Jason Luv, right? The adult film star with the alleged glitzy that makes all the ladies go crazy. Well, he did a scene with Lena The Plug, the wife of Adam22, who host of No Jumper podcast, and he had some interesting things to say about it in a IG live video.
Jason Luv said he went easy on Lena Plug while recording their adult film scene. He said he could have destroyed her with his glitzy, but he only hit her with a 5.5 on a scale of 1 to 10. He conveyed that he wanted to respect her husband, and not make him feel bad. He said it would have been rude to destroy her during the scene, since he felt she hadn't experienced taking someone of his alleged size. If you connect the dots it's almost like Jason Luv saying Adam22 has a small groin size.
He seems confident that they might do another scene together. If that happens, he confirmed to Adam22 that he will raise his destruction level to 7.5, only so he can one up himself.
Do you think Adam22 is cool with it? Do you think Jason Luv is being disrespectful, or just confident? Take a look at the viral footage.
Social media is having a field day roasting Adam22 for getting married to an adult film star, who has other industry members talking about how they went easy on her.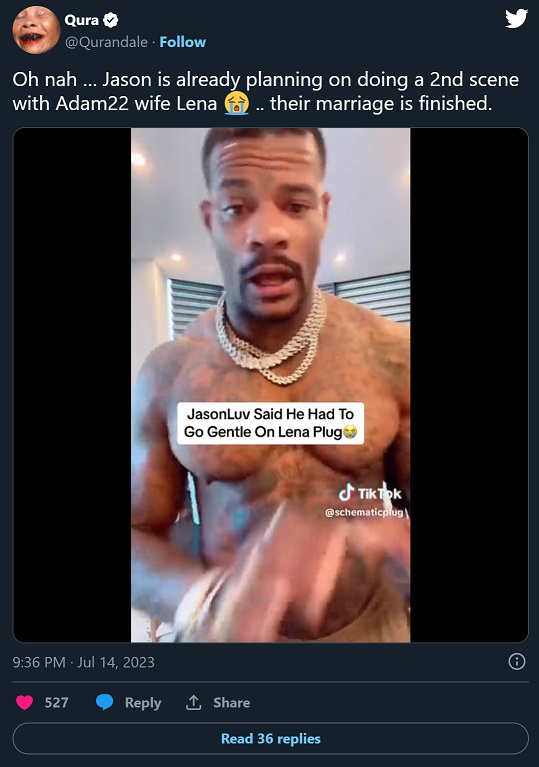 Adam22 knew what he was getting into when he fell in love with a woman in that profession, so he's probably handling the mental aspect of this situation better than most people think. Still yet for the average man being in a situation like this is a nightmare.
Not only is Jason Luv insinuated that Adam22 has a small groin, but he's also insinuated that he isn't man enough to truly satisfy Lena the Plug.