The rumors that Kevin Samuels is gay may have been confirmed after a yearbook photo from his High School days leaked. The photo and biography show that Kevin Samuels was a cheerleader in high school. Also in Kevin Samuels' Yearbook Photo he appears to be poking out his behind in a very feminine manner.
The excerpt above Kevin Samuels' cheerleading photo says, "Kevin Robson Samuels is a pisces who describes himself as unique. Kevin enjoys dancing, clothes, and meeting people. He's a member of band, Student Council, stage band, MHS Dancers, pep club, and the Bronze Gents".
The part to pay close attention to is the "MHS Dancers". That is the name of the cheerleading squad for his high school. It also said he liked "dancing", which cheerleaders do a lot of. It doesn't seem like he was strong enough to be one of those guys that hold the women up during routines.
Could this be more proof that Kevin Samuels is gay? Take a look.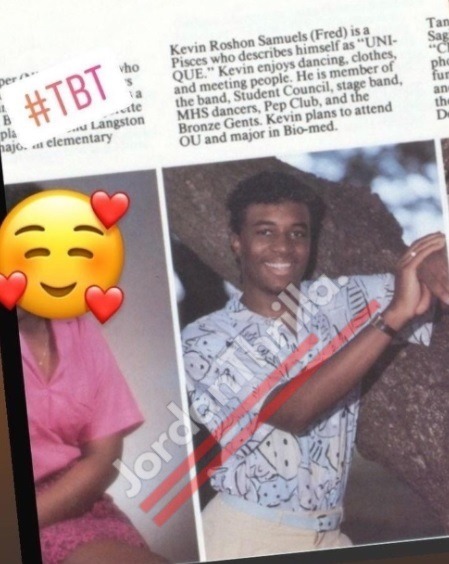 Considering the disdain Kevin Samuels seems to have towards women these days, it's very surprising that he was cheerleading with women during his high school days, but it also makes sense.
Perhaps that is where his hatred for women stems from?
Author: JordanThrilla Staff