LeBron James is widely regarded as one of the greatest basketball players of all time, and he continues to defy age and gravity with his remarkable athleticism. On Monday night, during the Lakers' loss to the Miami Heat, James delivered one of the most spectacular dunks of his career, taking off from the free throw line and slamming the ball with authority.
How Lebron James' Free Throw Line Dunk at Age 38 Happened
The play happened in the second quarter, when the Lakers were trailing by 3 points. After a steal by Taurean Prince, James sprinted down the court and received a bounce pass from his teammate. James then gathered the ball and launched himself from just inside the free throw line, soaring over the defense and finishing with a thunderous dunk. The crowd erupted in awe and disbelief, as James celebrated his incredible feat.
Correct us if we're wrong, but It was the first time a 38-year-old NBA player did a free throw line dunk during an NBA game. James, who will turn 39 in December, showed no signs of slowing down or losing his explosiveness, despite playing in his 21st season, and having the most minutes played in NBA history. People who were born the year he was drafted by the Cavaliers are in their 20s now, to put that in perspective.
James has been known for his near free-throw line dunks throughout his career, as he has displayed his amazing leaping ability and power on several occasions. However, his latest dunk was arguably his most impressive one, as he did it in a regular season game against a tough opponent, and at an age when most players are either retired or past their prime.
As you can see in the photo below Lebron's toe was at the free throw line when he took off on that second dunk in row.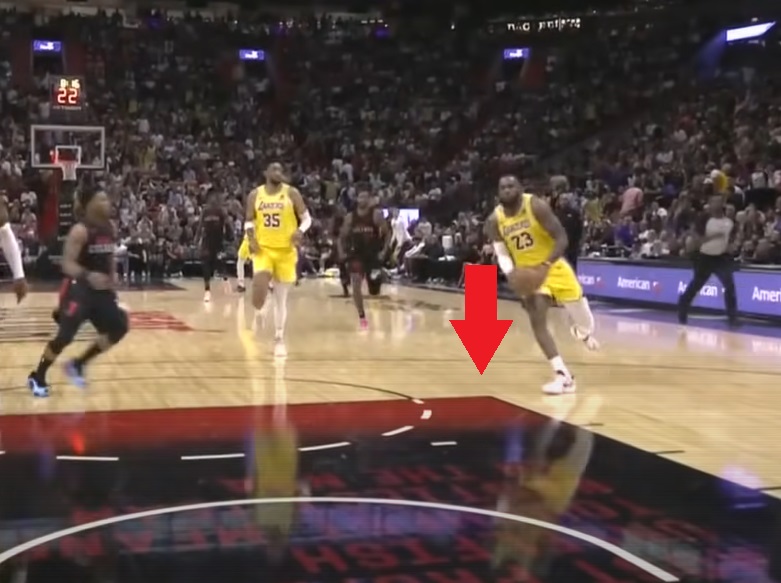 James's dunk has sparked a lot of discussion and admiration among fans, analysts, and fellow players, who are wondering if he will be one of the most athletic players in the NBA until he retires.
James has often said that he wants to play as long as he can, and that he takes care of his body and mind with a rigorous regimen of diet, exercise, and recovery.
He has also expressed his desire to play with his son, Bronny James, who is currently on the road to a full recovery from his heart issue. James has said that it would be a dream come true to share the court with his son in the NBA, and that he would do whatever it takes to make it happen, including sign with any team that drafts him.
James's free throw line dunk was a testament to his longevity, greatness, and passion for the game. He proved once again that he is not only one of the best players ever, but also one of the most athletic and exciting ones. He also gave the NBA fans a memorable moment that will be replayed and remembered for years to come.