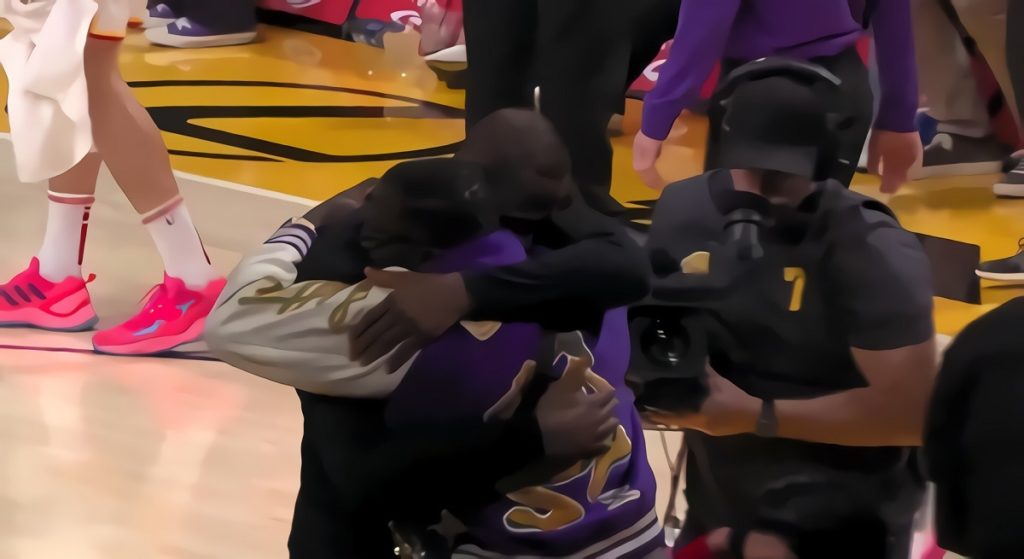 Shannon Sharpe is the most famous diehard Lebron stan ever. His love for him goes so deep it's downright creepy at times. Anyone who has watched Undisputed has seen the antics Sharpe does to profess his love for his man crush. Whether he's wearing Lebron's jersey, wearing a Goat head mask, or both he finds all kinds of ways to pay homage to his idol. Naturally it was a special moment when the two crossed paths.
Lebron Running to Hug Shannon Sharpe After Lakers Beat Hawks Go Viral
Lakers won their 4th straight game in a dominating team performance against the reeling Atlanta Hawks. Lebron at 38 is averaging 29 points per game on the season, and has been playing his best basketball ever since his birthday. As one of the famous people on the planet earth it's not often you see him running up to other people like a fan. However, when Lebron saw Shannon Sharpe he ran across the court to give him a long hug, and exchange some pleasantries. They almost looked like father and son.
Shannon Sharpe is probably feeling like the happiest man alive right now. There's no doubt he'll probably dream about his special hugging moment with Lebron James while he sleeps tonight.
Do you think the same thing would have happened if it was Skip Bayless at the Lakers game?