Clippers fans are boiling with anger after NBA released Clippers' schedule for the 2021-22 season. The ridiculously grueling schedule has fueled conspiracy theories that the NBA is trying to sabotage the Clippers.
Why Are Clippers Fans Angry About Clippers' Schedule for 2021-22 NBA Season?
Clippers schedule for this coming season includes,
53 Games with 1 day of rest between
11 Games with 2 days of rest between
5 Games with 3 days of rest between
4 Occurrences where they play 5 games in 7 days.
As you can see that seems a bit unreasonable, and bit hazardous to the health of Clippers' players. 53 games with only 1 day of rest in between? It's almost like they are playing back to back games the entire season.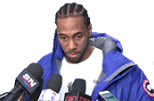 Considering how injury prone Kawhi Leonard is, and the fact that he will be coming off ACL surgery this schedule couldn't be worse for the Clippers. It's safe to assume that "load management" will be the theme of their season.
Some people think NBA is mad that Clippers made the Western Conference Finals without Kawhi Leonard since the ratings were so low. Presumably a Jazz vs Suns series would have made more money for the league since Clippers most popular player wasn't playing.
Whatever the case may be Clippers have a tough road ahead next season. By the time playoffs start they may be completely worn down physically.
Author: JordanThrilla Staff