Mac McClung is creating a buzz around the NBA as the first G-League player to participate in the 2023 NBA All-Star Game's Slam Dunk Contest. The 23-year-old guard, who went undrafted in 2021, has lived in five different cities and played for six teams since his professional career began.
McClung was born in Texas, and was a high school superstar and social media sensation at Texas Tech University. After being undrafted in 2021, he eventually landed with the South Bay Lakers, the affiliate of the Los Angeles Lakers. He averaged 19.6 points, 5.8 assists, 3.3 rebounds, and 1.2 steals in the 13 games he played before being called up by the Chicago Bulls in mid-December.
McClung returned to the South Bay Lakers in January, and averaged 21.6 points, 7.5 assists, 6.8 rebounds and 1.5 steals, winning the 2021-22 Kia NBA G League Rookie of the Year award. In April of that year, Los Angeles rewarded McClung with a two-way contract and brought him up for the final game of the regular season. He capped a solid performance with one of those signature jaw-dropping dunks, eliciting an amazed roar from the crowd.
Despite a successful, albeit hectic, rookie year, and an impressive showing at the 2022 Summer League, McClung did not make an opening day roster. He turned down million-dollar offers from clubs overseas, instead opting to rejoin the G League and keep chasing his NBA dream. As a member of the Delaware Blue Coats, the affiliate of the Philadelphia 76ers, McClung has thrived in various roles this season. He dropped a career-high 44 points in November, and notched his second career triple-double in December.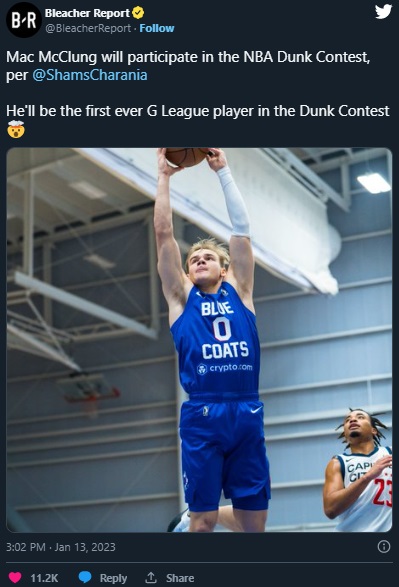 McClung is ready and eager to prove himself at the 2023 All-Star Game Slam Dunk Contest. As he said in an interview with SLAM, "I'm going to make the most of whatever my role is for the team. Show that I can fit in in any situation". He is confident in his ability to adapt, and points to his experience in the G League as proof.
The 2023 All-Star Game Slam Dunk Contest will have newfound excitement after being lackluster the past year, as McClung will be the first G-League player to participate as aforementioned. He has worked hard for this opportunity, hopefully he wins and it catapults him to more secure NBA contract.