The WNBA is an incredible basketball league that many people feel is overlooked by the NBA. Despite the NBA being worth an insurmountable amount of money the WNBA always seems to get treated like a second rate league. Whether you look at the underpaid salaries, quality of travel accommodations, or the fact that many WNBA players have to play basketball in Russia during their offseason just to get paid more, it's easy to see they deserve better. The size of the WNBA All Star MVP Trophy didn't help make the situation look any better, and now people are convinced they discovered the price of it.
Why is the Size of Kelsey Plum's All Star MVP Trophy So Small? Kelsey Plum's Small WNBA All Star MVP Trophy Trends
In what was a blowout win for Team Wilson, Kelsey Plum had a monster 30 point game hitting 5 three pointers, and dishing out 3 assists. She led Team Wilson to a 134 -112 win. For her efforts Kelsey Plum got the honor for the most valuable player in the game.
As you probably know in the NBA when Stephen Curry won All Star MVP he got a massive trophy that looked like an expensive wedding cake made of the finest precious stone. In comparison Kelsey Plum's tiny All Star MVP trophy has sparked controversy. As you'll see in the video below the size of WNBA All star MVP trophy looks like a tea cup. It looks like it would dent just from tapping it.
For perspective take a look at Steph Curry's All Star MVP trophy side by side with Kelsey Plum's small WNBA All Star MVP Trophy. The NBA version is almost 8 times as big.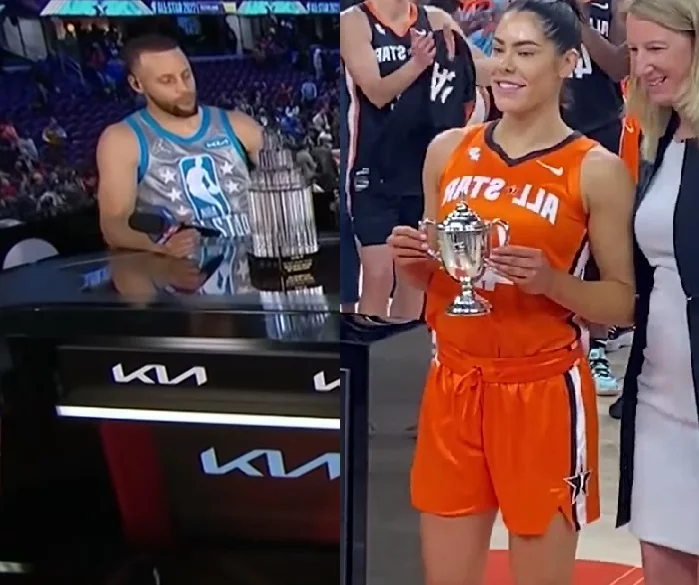 Did Kelsey Plum's WNBA All Star MVP Trophy Cost $18? Details About the Alleged Price of WNBA All Star MVP Trophy
The crazy part about this situation is how cheap WNBA All Star MVP Trophy might be. People did a google search, and found a trophy that's identical in size and shape, and it only costs $18. The NBA is worth billions and the WNBA is worth millions, did they really only spend $18 on the WNBA All Star MVP Trophy?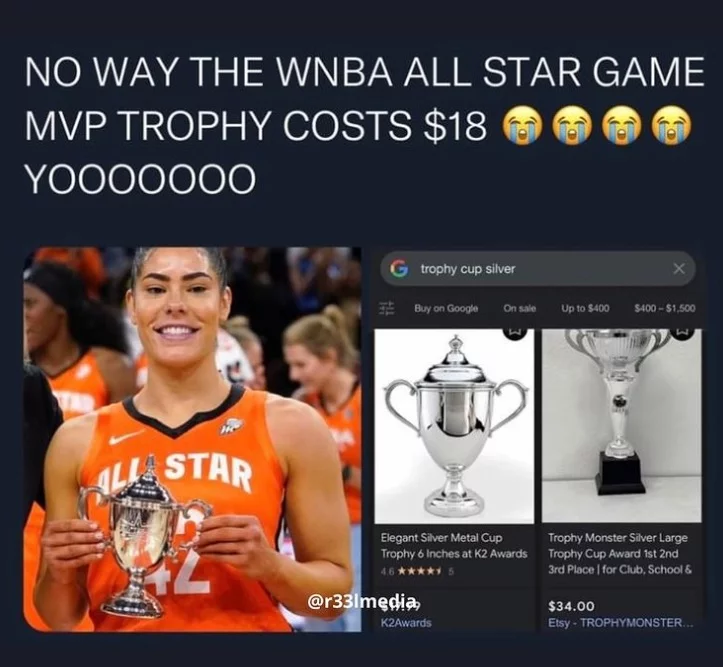 When you think about the limitless amount of money the NBA has it's easy to see the gripe people have with the small size of the WNBA All Star MVP trophy, and more importantly the alleged cost. Hopefully that trophy was at least made of real silver or white gold.
Just because the WNBA basketballs are slightly smaller, does the trophy have to be as well? Hopefully the backlash finally brings some change next season, and the trophy increases in size.