Art has the ability to invoke so many emotions within our souls. At times when people are feeling down the right type of artwork can create an aura of positivity. Naturally that means art can be used to show support for someone going through a tough situation in life. With everything that happened to Damar Hamlin an artist found a unique way to pay tribute to him, and now they are going viral.
Dylan Sadiq, also known as 'The College Cuber', is a well known artist hailing from Bayonne, New Jersey. After Buffalo Bills football player Damar Hamlin went into cardiac arrest and collapsed during a game against the Cincinnati Bengals, Dylan wanted to show his support in his own unique way, and created a tribute portrait of Hamlin using Rubik's Cubes.
The time-lapse video posted on Twitter of Dylan creating the artwork in his studio in Bayonne instantly went viral. He captioned the post with heartfelt message saying "praying for Hamlin". According to Dylan, a typical project of the sort takes him around three hours to complete. Although he is a devoted fan of the Bills, he also creates Rubik's Cube images of athletes from a variety of different sports. His talent is truly a sight to behold.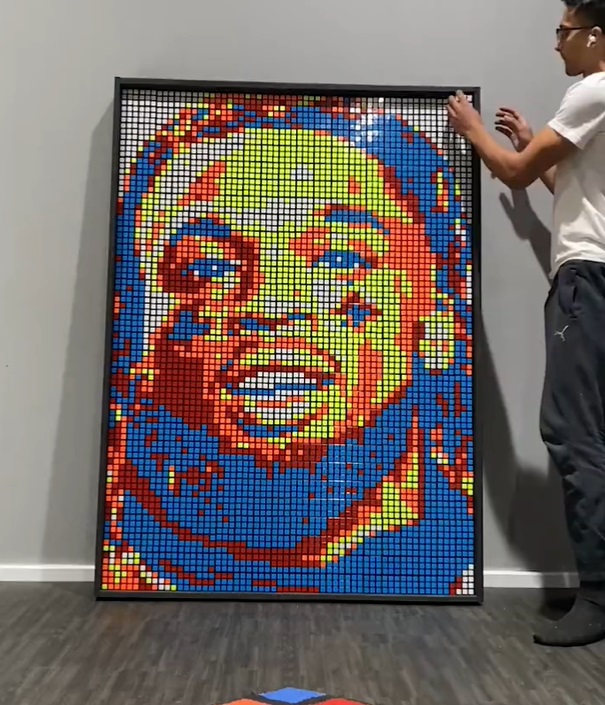 The prayers and support helped, because now Damar Hamlin is alert and awake. According to multiple reports his doctor confirmed he has begun to communicate in writing with his family, and others who have been at his side since he collapsed on Monday. His first question after waking up was reportedly "Did we win?", which shows his dedication to his teammates.
Dylan Sadiq's Rubik's cube tribute to Hamlin is a testament to his artistry. His unique and creative works of art are a touching reminder of the power of art, and its ability to bring people together.