Nick Cannon Says He is Going To Release a Tape of Eminem Giving a Man Head, and his lawyers are begging him not to, calling his line.
Nick Cannon took to twitter to say Eminem's lawyers are begging him not to release a tape of Eminem giving head to his chauffeur. Nick Cannon is threatening to release the tape sometime soon.
The Beef has now taken a very, very unexpected turn.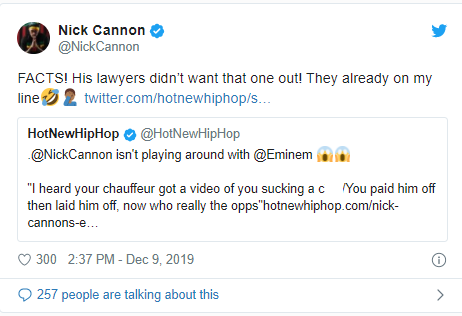 Nick Cannon claims the incident happened with Eminem's chauffeur, when he was driving his limousine.
If Nick Cannon is telling the truth, it would change Eminem's career forever in the hip hop community for a lot of people. However, there would still be the fans that support Eminem regardless. Everyone would be very shocked though.
Author: JordanThrilla