By now most people know that 50 Cent has zero chill on social media. Usually his antics are funny, but sometimes he goes way too far. As example people are now cancelling 50 Cent for using Michael K. Williams' death to promote his Raising Kanan show.
What Was in 50 Cent's Deleted Instagram Post About Michael K. Williams Death
In the controversial Instagram post 50 Cent posted Michael K Williams' picture with this caption,
Damn if you didn't see Raising Kanan Check it out, that Fentanyl is no joke murdering the clientele. RIP Michael K. Williams".
It didn't help that he also added hashtags promoting his other brands such as Lechemin Duroi, Bottle Rover, and Branson Cognac.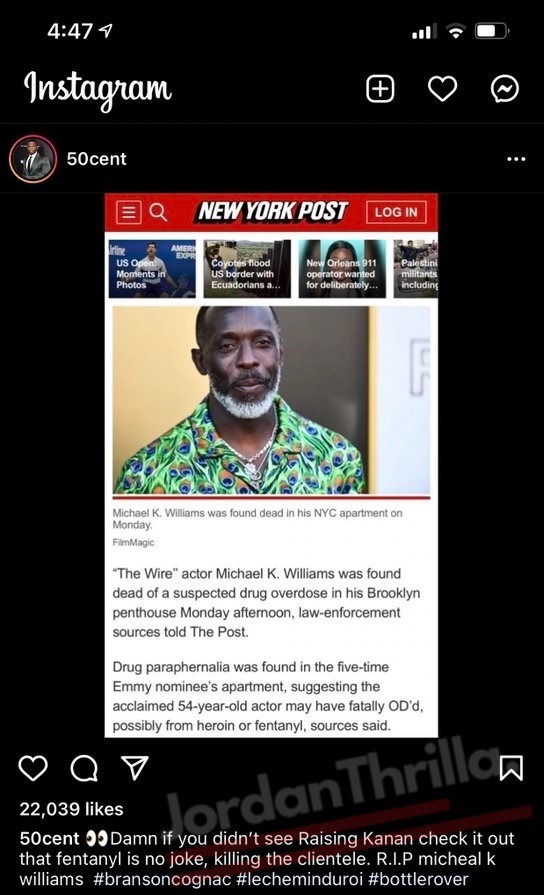 Here were some of the reactions to 50 Cent's Michael K. Williams post promoting his Raising Kanan show.
After catching wind of the backlash he caused, it appeared 50 Cent deleted his Michael K. Williams Instagram post. This might be one of the rare times where he realized he went too far.
It's never a good look for a celebrity to use someone's death to promote their own business ventures. 50 Cent did get the attention he was looking for though, and the old saying goes "all press is good press, even bad press".
Author: JordanThrilla Staff