Is Stephen A Smith dating Rosalyn Gold-Onwude? People are itching to answer this question after Stephen A Smith was on a date Rosalyn Gold-Onwude.
New photos have surfaced showing the two eating together at a fancy restaurant. From the pictures it didn't look like a work outing, it seemed like Stephen A Smith and Ros Gold-Onwude were dating and getting very flirty. Stephen A Smith even had on his pimp shades.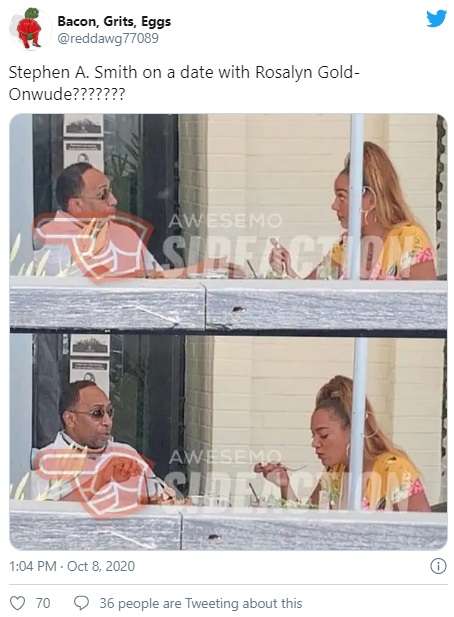 Some people might remember the incident where Charles Barkley clowned Rosalyn Gold-Onwude for having on an allegedly cheap outfit. Perhaps Ros Gold-Onwude realized Stephen A Smith signed that $10 million a year contract with ESPN, and is trying level up. Or it could be Stephen A Smith who is pursuing her in hopes of landing a younger woman. Stephen A Smith is 52 and Ros Gold-Onwude is 33, so there is 19 years between.
This might be the first time Stephen A Smith has been seen with a woman publicly in a possibly romantic way. If Stephen A Smith is dating Ros Gold-Onwude, congratulations to them. They do seem to make a good couple too, despite the age difference.
Author: JordanThrilla