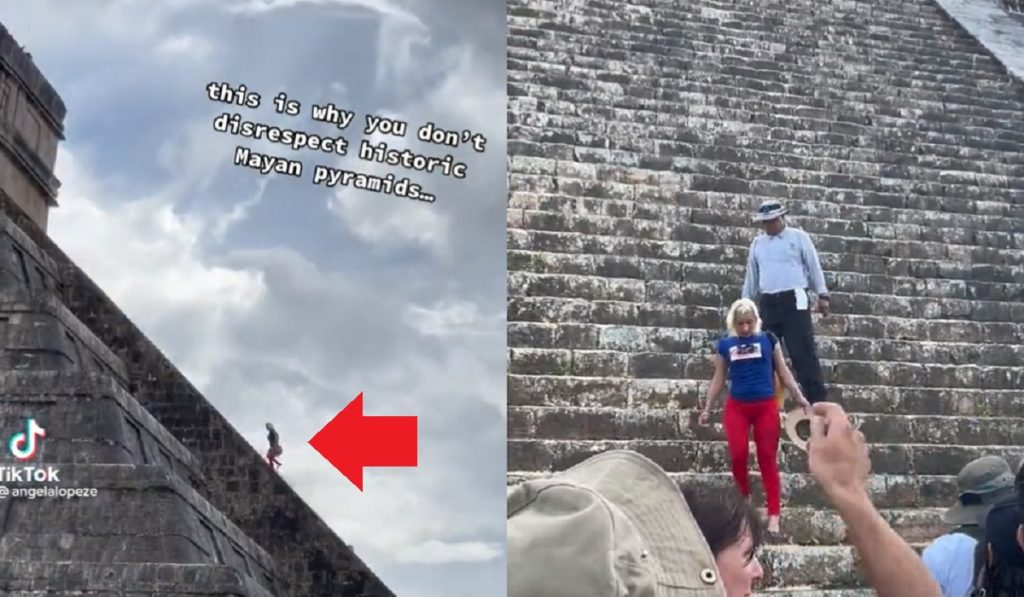 When people go on vacations to other countries there are two widely known rules that everyone knows you should follow. Firstly respect the country's laws, and secondly respect their historical landmarks. Breaking one of those rules could lead to unexpected reactions from locals as one tourist in a viral video found out the hard way.
Large Crowd Boos and Throws Trash at Tourist that Disrespectfully Climbed Ancient Mayan Pyramid in Mexico
The Ancient Mayan Pyramids were built in Mexico, Belize, Honduras, Guatemala, and El Salvador between 300 and 900 AD, according to history books. At the height of the Mayan Empire there were 40 cities that spanned across the aforementioned areas. The ancient ruins from that legendary time period have broken down a lot due to nature, but in Mexico the ruins have stood the test of times more than other places.
A viral video shows the moment a tourist in Mexico made the bad decision of using one of those historical landmarks for some personal clout. The footage shows the tourist climbing the Ancient Mayan Pyramid then celebrating her personal accomplishment when she reached the top. Little did she know that in the process of doing that she disrespected a piece of Mexican history in front of locals. As she awkwardly climbed down the steps the tourist was met with loud boos from the upset crowd that was watching. They were also throwing trash at her.
_
Situations like that are why residents of some countries strongly dislike tourists.
Hopefully that tourist learns from the debacle, and doesn't disrespect historical landmarks on her next vacation.