Cardi B's beef with Shade Room has been ruling the social media timelines recently, and something a bit peculiar may have happened in the midst of all the tension. An alleged simple request from Cardi B was apparently taken the wrong way by Shade Room, which set off a war of words on social media. In the process Cardi B may or may not have had her Kevin Durant burner account moment.
Was Cardi B's Burner Account Exposed? Details on Why People Think Cardi B's Fake IG Page Was Mistakenly Exposed During Beef with Shade Room
According to reports Cardi B requested that Shade Room stop posting her kids, which set off the string drama filled events across Instagram and Twitter. Things got super personal, which led to Shade Room tweeting and deleting a post calling out Cardi B for calling their CEO overweight, and saying she owned their website.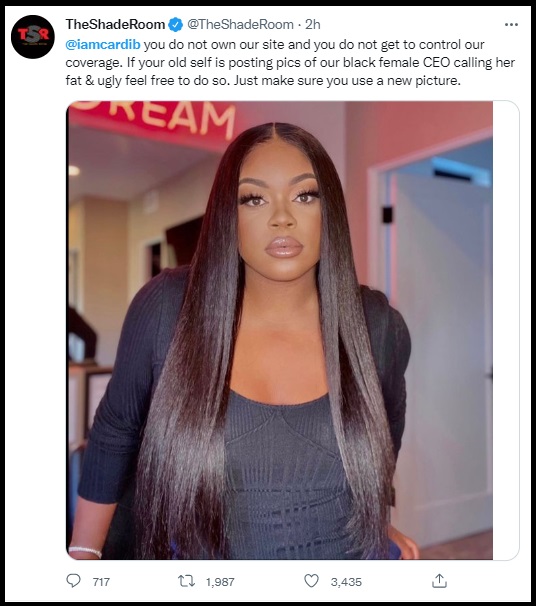 Things got a bit strange when people noticed Cardi B was logged into multiple IG accounts while another account on the screen was posting things they thought she might say. Is "celebslovesbardi" Cardi B's fake page, or are people reaching?
Cardi B was showing a screen record, which shows her perspective of the cellphone screen, and people noticed that she was logged into multiple accounts as aforementioned. At the bottom right corner of the screen there is a red dot below Cardi B's user profile photo. That red dot usually indicates that you're logged into multiple Instagram accounts. People are convinced that Cardi B's burner account is the 'celebslovescardi' IG page seen in the photo below.
Did Cardi B's fake IG page mistakenly get exposed, or is just a coincidence the mystery account was showing on her screen while she was logged into multiple profiles? It's really tough to come to any conclusions just based on the evidence at hand. If anything celebrities do usually love Cardi B, so the username fits.