Did you know Kawhi Leonard is a rapper now? He was once known as the quietest player in the NBA, before he opened up personality wise in Toronto. Now he has evolved again and is taking his talents into the rap world. In a viral video Kawhi Leonard previewed his new album "Culture Jam".
Kawhi Leonard's rap album won't be a generic project, but one that will have many big names on it. It has been confirmed it will have features from NBA Youngboy and Rod Wave. Kawhi is a top 5 player in the NBA, and is looking to be a Top 5 rapper in the hip hop world.
Some people were shocked that Kawhi Leonard even has an Instagram.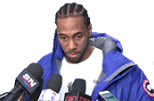 Most people thought Kawhi Leonard didn't even like listening to music due to his robotic personality. When he was asked to name his top 5 rappers during his Toronto days he just named the most generic popular rappers out at the time. Little did people know that Kawhi Leonard was in the studio recording an album all this time.
Do this make Kawhi the first robotic rapper ever?
Author: JordanThrilla Staff