The news of Gunna snitching on Young Thug, and other members of the Young Stoner Life (YSL) label has sent shock waves throughout the rap community. Since the news broke, he has remained silent on social media, until recently. Today Gunna made his first post directly referencing the situation, and it was met with mixed reactions from fans and YSL members alike.
YSL Civil War on Instagram Trends After YSL Unfollowed Gunna in Reaction to His First Social Media Post Since Allegedly Snitching on Young Thug
Gunna posted messages on social media saying "R.I.P KEED ILY and IMY TWIN", and "N***** acting like they switching to a side, but it's only one side. #YslTheLabel #FreeThug&Yak Gunna Back". Apparently Gunna is unaware that the general public and YSL is convinced that he is the reason Young Thug is still in jail, so his posts didn't go over too well with them.
In response YSL members unfollowed Gunna. In addition @2x_unfoonk aka Unfoonk responded saying "all dat internet s*** not cool. I'm been humble with you n*****". In another post @LilGotIt aka Lil GotIt wrote "Don't call me twin". Even Tekashi 6IX9INE chimed in clowning Gunna for calling YSL a "label" after he told the court they were a gang. Even Young Thug's sister unfollowed Gunna.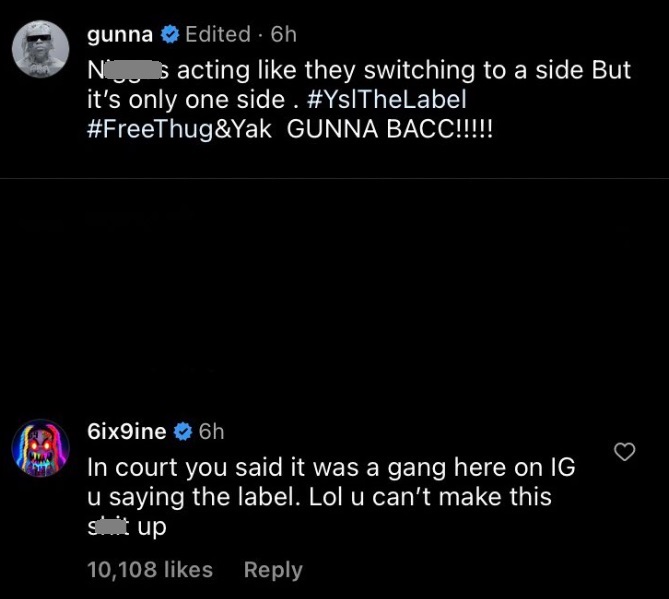 DJ Akademiks summed up the YSL Civil War situation Gunna's social media posts have caused very succinctly, saying "YSL having a civil war beef on instagram. Gunna came out and tried testing the water claiming YSL the label, and said Free Thugga. Everybody in ysl lookin at Gunna like 'N**** u the reason he in there'. They all unfollowed him right after even thug sister".
Is Gunna a Snitch? The Video Evidence Fueling the Conspiracy Theory He's Working with FEDS
After that video leaked that appeared to show Gunna snitching in court, his street credibility hasn't been the same. In the footage Gunna answers "yes Ma'am" to a question about him witnessing members of YSL committing crimes. Gunna also answers "Yes Ma'am" to a question asking if YSL is a street gang. After the video went viral, nicknames such as "Gunna Tell" were trending on social media. People also starting dropping pieces of cheese of around his car.
It's safe to say that Gunna is getting the Tekashi69 treatment from all angles.