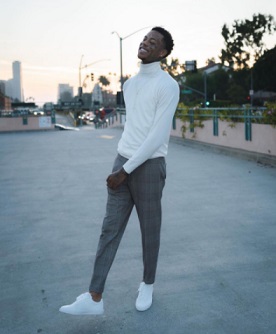 Rapper Boonk Gang is now Mister Rogers' Neighborhood in 2019 or has been cloned with new makeover.
Boonk Gang, is turning a new leaf in life, and he took to social media to show off his new look. With a wide smile on his face, corduroy pants, long sleeve sweater, and legs politely crossed, it was a far cry from the Boonk Gang his fans are used to.
He now looks like Mr. Rogers from the neighborhood, which isn't a bad thing. Mister Rogers quietly had great style. People now are wondering if this new version of Boonk Gang, will stay out of trouble on social media, and make the same kind of music. Only time will tell.