The line "I want that 69 without Tekashi" is going viral after Doja Cat dissed Tekashi 6IX9INE on 34+35 Remix lyrics. Most people thought it would be Arianna Grande going at him, so when Doja Cat dissed Tekashi69 the internet went crazy.
People reacted to Doja Cat's "69 without Tekashi" with endless reactions on Twitter clowning him for what had just taken place. Somehow Tekashi 6IX9INE managed to get ethered by Doja Cat.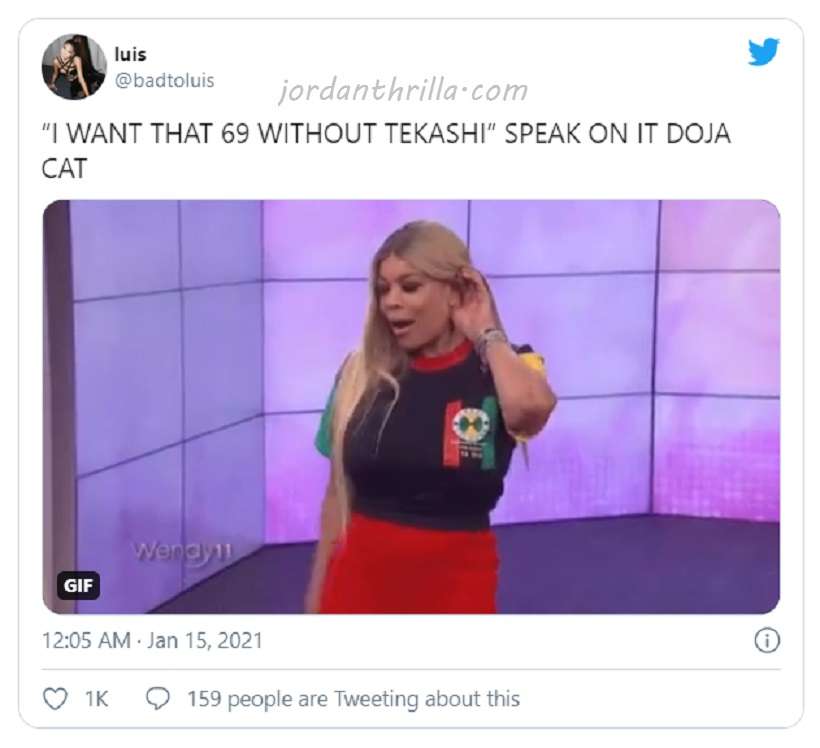 Tekashi gonna wake up to chaos it's so funny to me #3435REMIX pic.twitter.com/9USqD9lBKr

— Andrew 🦋 Mariah outsold (@AndySmith48) January 15, 2021
Hey Tekashi 6ix9ine Doja really got you asshole pic.twitter.com/sCt49sAzt8

— 🌈ANTONIO• (@ladyfagaa) January 15, 2021
Me listening to "I want a 69 without Tekashi". The shaaaaaaade ugh I love it. Queen Ariana, Miss Doja Cat and Megan Thee mothafucking Stallion really slay ✨#3435REMIX pic.twitter.com/S61gh3ynAz

— Cynthia (@CpSg2002) January 15, 2021

The last tweet in particular resonates, because Tekashi 6IX9INE has basically completely fallen off. Doja Cat dissing Tekashi69 on 34+35 Remix lyrics actually breathes new life into his career once again. Now thanks to Doja Cat he is finally back in the music headlines.
Doja Cat saying "I want that 69 with Tekashi" was the classic highlight from the 34+35 Remix lyrics. The jokes are going to being strong for the next few months. Perhaps Tekashi69 will release a diss track of his own to capitalize on the extra attention.
Author: JordanThrilla