Fake love is the kind of affection no person likes. To many people fake love is worst than showing no love at all. In the social media age fake love is a pandemic that is caused by people looking for clout and some likes. For former NBA superstar Isaiah Thomas fake love has been the story of his career, and he is fed up with it.
Isaiah Thomas Disses Lebron James' Friend CuffsTheLegend for Showing Fake Love
Recently Lebron James' infamous friend CuffsTheLegend posted a tweet speaking highly of Isaiah Thomas' work ethic. He was reacting to the Hornets signing Isaiah Thomas to a 10 day contract a few days ago. In the post he said,
"One of the hardest workers in NBA history. Loves the game and never gave up. Great example for young hoopers! Nothing but respect."
The post seemed harmless on the surface, but Isaiah Thomas saw right through the veil. He was 100% sure that it was another tweet posted specifically to get some clout and likes. Naturally Isaiah Thomas called out Lebron's friend CuffsTheLegend for showing him fake love. He posted response saying,
"Stop with the fake love Killa. We don't get down like that at all."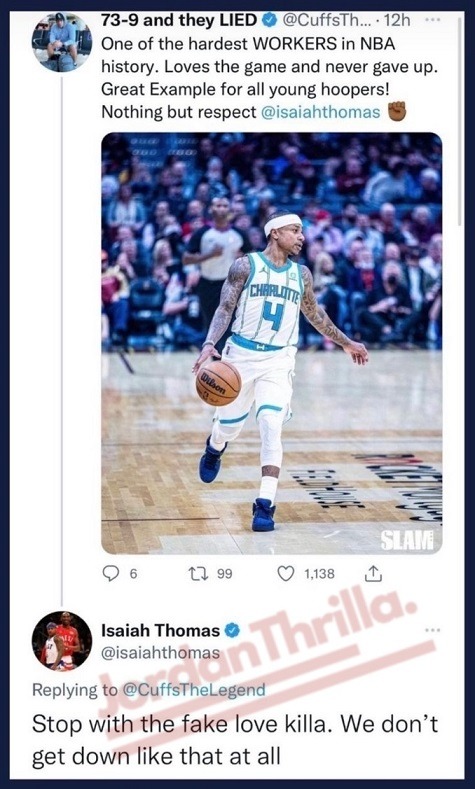 Why Did Isaiah Thomas Expose Lebron's Friend CuffsTheLegend for Showing Fake Love?

It's not clear where Isaiah Thomas' disdain for CuffsTheLegend stems from, but it could have a lot to with Lebron James. If you notice Isaiah Thomas has been traded or cut from every team where he played with Bron Bron.
In a way I.T. could be thinking Lebron doesn't look out for him, or was active in the process of getting him removed from the Cavaliers and Lakers.