Earlier today the NBA revealed their new 2020 NBA Finals court design with new features such as a YouTube TV logo and Walt Disney insignia. The court looks incredible, but there is one major flaw we noticed. The 2020 NBA Finals sidelines has flaw that could be quite dangerous to a teams success.
The 2020 NBA Finals court design includes two Larry O'brien trophies under each respective basket, with a red or blue color. To the viewer it looks really cool, but the 2020 NBA Finals court sidelines are blended in with the outside of the basketball court. This could potentially cost either Lakers or Heat a game in the series. Players like JR Smith have already had trouble seeing the sidelines at the Orlando Bubble.
Let's take a closer look at this major 2020 NBA Finals court design flaw we noticed.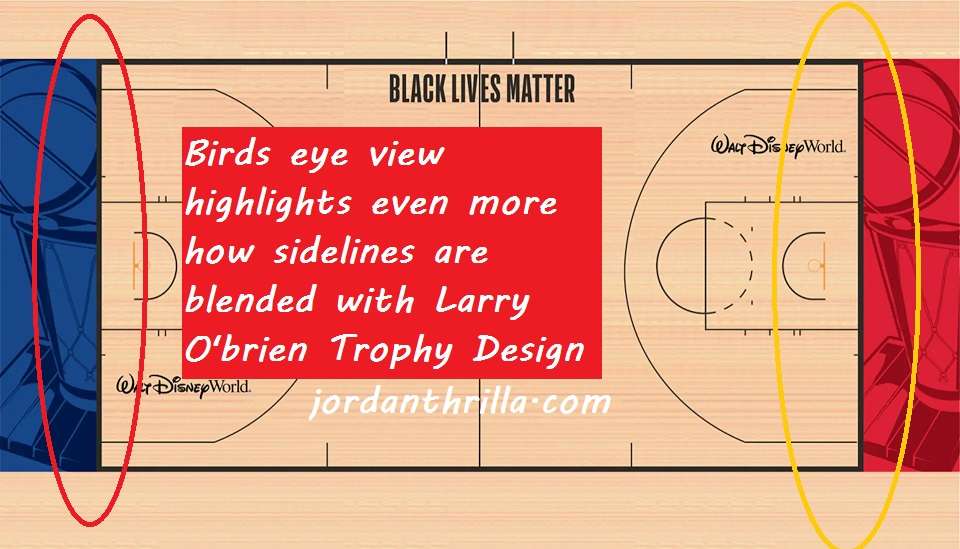 A good example of the kind of mishaps that can happen when the sideline blends in with the outside of the court, is when Kevin Durant walked out of bounds during clutch minutes, because both he and the referees couldn't decipher where the sideline was.
Now imagine something like this happening in the finals, when a team is down 2 or has 1 point the lead. The 2020 NBA Finals sideline flaw is even worse than the Warriors homecourt.
It will be interesting to see if players from Lakers or Heat make any complaints about the 2020 NBA Finals sidelines design flaw.
Author: JordanThrilla